August 5, 2010
It's hard to believe it's been almost two years since the first F*Cancer bracelet was sold and fundraising for InspireHealth through F*Cancer Embrace Life was launched. As founder, I want to celebrate our success with you and share the highlights of this time.
The Beginning…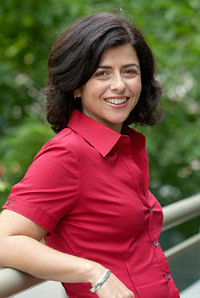 I was diagnosed with non-Hodgkin's lymphoma in 2007 and was treated with radiation. I was grateful for my recovery but feeling wiped out after treatment. That's when someone referred me to InspireHealth where I got practical information about nutrition, supplements and exercise. Following the guidance I received, I finally started to feel better.
One day, I was visiting my friend Ameen, and I noticed a beautiful metal cuff covered in Arabic script sitting on a shelf. He told me that it was a special bracelet from a mosque in India, and that the writing, from the Koran, was meant to protect the wearer. I loved this idea and decided I would make my own charmed bracelet. After all, I'm a jewelry designer; what better way to express what I'd been through?
Believe it or not, "Fuck Cancer" was the first protective phrase that came to mind. The strong language worked for me. Not because it was shocking or obscene, but because it was honest, sassy – and funny! "Fuck Cancer" said that cancer hadn't killed the rebellious, daring part of me. Once I had made the bracelet and showed it around, all my friends wanted one, including one of my doctor pals! Everyone loved the subtlety and elegance of the design combined with the raw emotion of the statement. People who'd lived with cancer "got it" immediately. It was what we all felt, but what no one wanted to say.
I realized I had found a great way to raise funds and express thanks — F*Cancer Embrace Life was born.
1000 Bracelets and 50,000 Dollars Later…
I am proud to say that since Oct 2008 we have sold over 1000 bracelets and raised more than $50,000 for InspireHealth.
To raise awareness of the cause and provide an outlet for people to buy bracelets, I created a website that has attracted thousands of visitors. I have also raised funds directly through donations for InspireHealth through our friends on Facebook where I have created an online community for sharing news and stories.
I've also had some amazing celebrity friends who have helped spread the word. Sarah McLachlan. The Barenaked Ladies. Michael Franti. W. Brett Wilson. There was even coverage at the 2009 Junos where Sarah and the Barenaked ladies did their thing on the red carpet, all sporting F*Cancer bracelets! You can see the youtube video on the F*Cancer Embrace Life website
Inspiration begets Inspiration…
I still follow the guidance I learned through InspireHealth — I am stronger and fitter than I have ever been in my adult life –I feel terrific!
I have also been incredibly inspired and moved by the stories that other cancer patients and their supporters have shared through the F*Cancer Embrace Life website and our Facebook page. As a community we have shared our own stories on how cancer has affected us — like the recent post from a Facebook friend whose wife bought him an F*Cancer bracelet after he quit smoking — his response to losing his sister to lung cancer. We also heard from Tony, in recovery from leukemia, who recently celebrated his fortieth birthday in Las Vegas, where he marked the occasion by getting an F*Cancer tattoo.
These stories of love, hope and courage continue to inspire me to embrace my own life and I want to express my heartfelt thanks to all of you who have taken the time to share your stories and to all of you who have purchased bracelets and contributed to InspireHealth.
F*Cancer Embrace Life!
Susan Fiedler