September 30, 2010
And manual lymph drainage…
Have you ever wondered what a lymph node is? What is the function of the lymphatic system in the body? Our lymphatic system is part of our immune system. One of its main functions can be compared to a garbage removal system for our bodies. Toxins, bacteria, viruses, mutant cells are removed from the tissues via lymphatic vessels and transported to lymph nodes where special cells can destroy them.
What happens when a lymph node is unable to perform its functions because it is removed or damaged by radiation? The body has an amazing capacity to heal itself and to correct imbalances. The lymph vessels damaged in surgery can join with other working vessels to get the transportation job done.
What is lymphedema? Lymphedema is a condition that can result from cancer treatments. It is a noticeable, heavy swelling in an arm, leg or other area of the body. It is a permanent condition needing lifelong management. It can happen just after surgery or radiation, or many years later. It occurs in about 30 percent of cancer patients. Did you know that there are some things you can do to help prevent lymphedema. Treatments can include regular Manual Lymph Drainage, scar tissue treatments, exercises, skin care, deep breathing, and avoiding extreme heat.
What is Manual Lymph Drainage (MLD)? Manual Lymph Drainage is a safe and gentle massage technique that is used to treat over sixty different conditions. It involves a light touch applied to the skin in order to stretch the tissue in specific directions causing the tiny lymphatic vessels to open. Lymphatic fluid will enter the small channels, continue to flow into larger vessels and will reach the lymph nodes for filtration. It alleviates pain by removing chemicals that irritate nerves and reduces the pain signals sent to the brain. MLD assists the body in healing more quickly from injuries, surgeries, chronic conditions, edema, and it helps minimize scars formation.
To learn more… To learn more about the lymphatic system and how to help prevent and treat lymphedema , I invite you to attend the Lymphedema Information Sessions held on the last Wednesday of every month from 5 to 6pm at InspireHealth. The sessions are FREE to attend for members, and your support people are welcome. Registration is required ahead of time; please call 604-734-7125 to save your seat.
Denise Drisdelle, RMT Manual Lymph Drainage therapist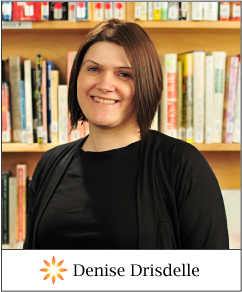 Denise Drisdelle is a Registered Massage Therapist certified in Manual Lymphatic Drainage (MLD) and Combined Decongestive Therapy (CDT), a technique used to treat and manage lymphatic disorders. Deciding to become a massage therapist was a long journey for her. Denise studied psychology in university and became interested in mental health. She worked in Community Living for twelve years supporting people with mental and physical challenges. Along the way, she became interested in integrated healing for her own benefit. With a world of alternative treatments to discover and a passion for helping others, she enrolled in Traditional Chinese Medicine. It was in this program that she learned Tui Na, a form of Acupressure Massage. This became her favorite course and she discovered that she had a gift for this kind of work. She then decided to enroll in a Massage Therapy Program and completed the three year program in 2005. Her favorite course was introduction to manual lymph drainage (MLD); she liked the idea of treating systemic conditions, and the fact that the technique is supported by evidence based research, so she decided to take the post-graduate advanced training levels. Denise has the highest Level III certification in MLD and CDT.
Denise has treated very difficult cases from severe wounds, burns, traumatic injuries, post-surgical healing and lymphedema; cases a regular massage therapist would not normally encounter or treat. She has been in practice since 2006 with a clinic on Commercial Drive in Vancouver and has been working on Wednesdays at Inspirehealth since 2007. Joining the InspireHealth team was coming to a full circle in her own quest for health: InspireHealth encompasses and teachings of healthful living she discovered along her own journey and has adopted.
To book an appointment with Denise, please contact her directly at 604-872-1675 or visit www.manuallymphdrainage.ca