Back to Blog
Miracle Galaxy ~ A Self Healing Story by Della Burford
April 4, 2011
Meet Della Burford, a survivor of two cancer diagnoses 25 years apart who first came to InspireHealth in 2000 with uterine cancer. She has now been cancer free since 2006 and has approached us to share her story and the art that was inspired by her journey.
Burford has a certificate from NYSID and graduate degrees from the University of Alberta and Queen's University. Her Sacred Visionary Art has been inspired by dream, different cultures including India, ancient Celtic knowledge, shamanism, and imagination. She was a Design teacher at Humber College North for six years. She has done storytelling, readings, live painting, writing and storytelling workshops at events and schools in Canada and internationally. Her books were plays in New York with Imaginations Unlimited. Two performances were at the Third Street School Settlement in New York and the Smithsonian Institution Discovery Theatre in Washington. She studied shamanistic clowning with Richard Pochinko. She worked decades as an Inner City Angel artist in Toronto. Della was taught painting by her mother Desiree Burford who was a student of Jack Shadbolt. Burford has created 30 years of Visionary "Dream Wheels". She presently lives on Vancouver Island.
[youtube http://www.youtube.com/watch?v=xPddq9vJZ-s]
"Most Cancer Survivors have stories to tell… mine has been painted, penned, and I want some day to see filmed, dance and sung. I call it "Miracle Galaxy" It is dedicated all to InspireHealth & Dr. Roger Rogers and to my mum Desiree & twin Donna. When I sat in Dr. Roger Roger's office eleven years ago I was in crisis… I knew I had had cancer decades earlier and survived…but now again. I had surgery but was told the cancer had gone further than originally thought so InspireHealth helped me design my own self- care program….InspireHealth helped me transform a problem into a goal by a different route.
My chiropractor suggested InspireHealth. I talked to my doctor and she agreed. My intuition also said yes. I began the journey to have my natural self healing powers develop more. Since I am an author and a visionary painter, I knew a story would evolve I could share one day. I told Dr. Rogers this and he encouraged me to tell my story. I had previously worked in Toronto as an "Inner City Angel" helping thousands of children believe in themselves and now Dr. Rogers said, "Now was the time to believe in you." I contemplated, penned and painting what the qualities were that were necessary to survive and heal. It took me seven years to complete the story and paintings.I was constantly searching – searching for answers! What evolved was "Miracle Galaxy" — a story of eight Angel Storytellers of Healing who bring light in the darkness." ~ Della Burford
If you would like to read more about Della and her journey with InspireHealth please click here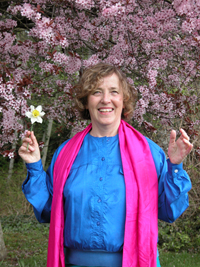 If you would like to contact Della and share with her your feelings about her art and video please feel free to email her at dellaburford@hotmail.com. You can also view more at her website www.dodoland.com or www.woodstreamstudio.com