May 20, 2011
Growing your own food is probably one of the most sustainable and rewarding things you can do. A skill that was essential only a few generations ago, is now being lost from our repertoire, and may yet become essential again before too long.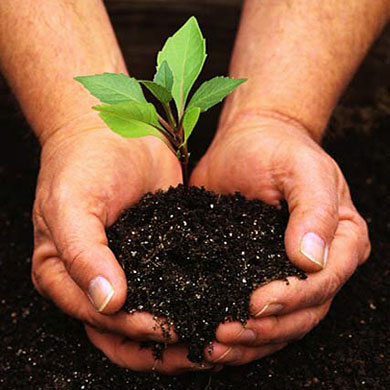 Digging your hands into the soil, using your muscles to pull those weeds out, feeling the warm sun on your back and most of all, seeing and eating the fruits (& veggies!) of your labour are all incredibly rewarding, both physically and mentally. Time spent leisurely in the garden can be very meditative and allow you to connect with your body, your food and our beautiful world.
Now is the season to get started on your garden, if you haven't already done so. Pick up some seeds or even some seedlings at your local grocery or garden store. If you don't have a lot of outdoor space, consider some planters or pots, which work well for greens, herbs, tomatoes, peas and beans.
Try to start off with certified organic seeds or plants and maintain a chemical-free stance on growing. Although pesticide exposure by eating food is not dramatically high and can be reduced -although not entirely eliminated- through peeling and washing, pesticide exposure through direct spraying is a known carcinogen. Use organic gardening techniques to maintain your health and that of our environment:
mulching to keep weeds down naturally
spraying a very diluted natural soap formula to get rid of pests, such as aphids
spraying vinegar on weeds to stop them from spreading
ensuring you use quality soil enhancers, like compost, rather than inorganic fertilizers
By May, many seeds and plants can be started directly outside. Some, however, like to stay a little warmer, so keep your tomatoes and peppers in pots in the house until June. As the weather becomes warmer, begin by moving your pots outside during the day, first in the shade, then eventually in the sun, and bringing them inside at night. This process is called 'hardening them off'. Picking up a seed catalogue will give you more information about the specific needs of the plants you are choosing to grow.
Even starting small, with one type of herb, for example, can yield big results, in all senses. Even better, herbs practically thrive on neglect, so if you expect to be away a lot, they will still grow through the summer! Herbs can also do well on a windowsill inside your home, so if you are lacking outdoor space, you can still garden indoors.
I assure you that watching those seeds germinate and sprout, push their way through the soil and start seeking the sunlight they need, will fill you with inspiration. Being witness to nature in action is an incredible way to appreciate the miracle of life and give you motivation to care for your own body and appreciate its natural abilities to grow and heal.
Stay tuned for my next feature on what to do with all that you've grown and bought in seasonal abundance from your local farmers. Start clearing out your freezer and make room!
Nicole Fetterly, B.A (Anth), BSc., RD Choices' Dietitian
For more grocery and cooking tips, I invite you to visit us in store or come along on an InspireHealth Nutrition Tour. To support the InspireHealth community, we are pleased to offer this exciting, complimentary, new service every other Friday at 11:30am at our Kitsilano location (next tour is Friday June 3rd). The key InspireHealth food and nutrition teachings will be put into practice at the grocery store with Choices' dietitian. You can learn practical tips and techniques for incorporating more healthful foods into your life and also understand more about foods you should be cautious towards. Tours are FREE and open to all InspireHealth members, however registration is required. Please call 604-734-7125 to join the next tour!
Every month, the Choices Nutrition Team compiles a list of their top foods to include in your diet. Their choices are based on what's in season, what's new to their shelves or even what the theme of the month is-like Heart Health in February. Please visit us in store for a list of the Dietitian's Top Choices for February or find them on our website.