July 21, 2011
Dark leafy greens are one of the healthiest foods on the planet and are often in short supply in our diet. One of the top three colours to include daily in our fruit and vegetable servings, the deep green of chlorophyll is a powerful antioxidant and detoxifier. Leafy greens also contain varying amounts of vitamins A, C, and K, folate, and minerals such as iron, calcium, and magnesium.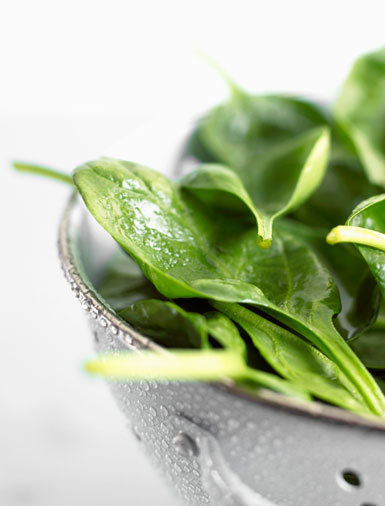 Many leafy greens such as kale, collards, mizuna, and bok choy, are part of the cruciferous family of vegetables and have been studied for their effects with cancer patients. They contain potent phytochemicals such as sulforaphane, selenium and diindolylmethane, which has been shown to inhibit prostate cancer cell proliferation. Other types of cancer, such as lung, colorectal, and breast, have also been shown to be positively affected by increased intake of this family of vegetables.
A truly local food, leafy greens are easy to grow in your garden or pick up from your local market. From kale to chard to spinach, try to work in a cup serving every day in a number of ways. To consume raw, toss spinach or kale into a smoothie -if you combine them with colourful berries, the drink will not be green, which is sometimes more pleasing to the eye. Also, the sweetness of the berries combined with the neutral taste of kale will make it difficult for even the most discerning of palettes to uncover the secret ingredients!
Kale can also be frozen; rather than cutting off the tough stems, you can simply crumble the leaves off the stalks and use them in soups, sauces, mashed potatoes, or pasta dishes. This can be an easy way to boost the nutrition content of a less healthy choice, such as a canned soup or packaged product.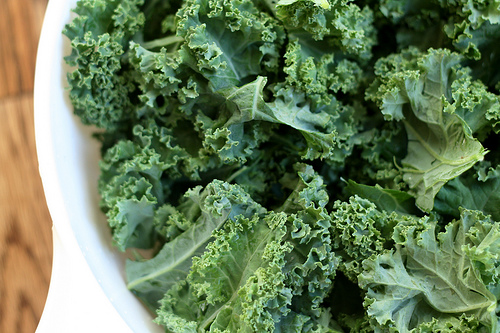 All leafy greens take well to being lightly steamed or sautéed. After steaming, squeeze the liquid out and use in omelets or frittatas -a great way to use up a whole bunch as they shrink down significantly. To sauté, heat a small amount of extra virgin olive or coconut oil in a pan with minced garlic. Add the greens and stir continually to release some of the water. Extra flavour additions, such as apple cider vinegar, or nutritional yeast, can help make a stupendous side-dish for a piece of fresh fish or even a burger, for example.
Finally, don't forget kale chips! Kale pieces tossed in olive oil and a bit of salt and pepper and then cooked on a baking sheet at 350F for 10-15 minutes transform into the healthiest chips you've ever eaten. Deliciously addictive, they will get eaten up before you even get them off the pan!
Nicole Fetterly, BA (Anth), BSc, RD
Choices' Dietitian
For more grocery and cooking tips, I invite you to visit us in store or come along on an InspireHealth Nutrition Tour. To support the InspireHealth community, we are pleased to offer this exciting, complimentary, new service every other Friday at 11:30am at our Kitsilano location (next tour is Friday July 29th). The key InspireHealth food and nutrition teachings will be put into practice at the grocery store with Choices' dietitian. You can learn practical tips and techniques for incorporating more healthful foods into your life and also understand more about foods you should be cautious towards. Tours are FREE and open to all InspireHealth members, however registration is required. Please call 604-734-7125 to join the next tour!
Every month, the Choices Nutrition Team compiles a list of their top foods to include in your diet. Their choices are based on what's in season, what's new to their shelves or even what the theme of the month is-like Heart Health in February. Please visit us in store for a list of the Dietitian's Top Choices for February or find them on our website.