Back to Blog
Awakened, Aware, Inspired – One amazing personal journey through cancer
November 24, 2011
InspireHealth patient, Kim Calabrigo, shares her journey through a difficult cancer diagnosis and explains how she found light and so much more, at the end of the tunnel.
Today, I am two years in remission from stage 3 colon cancer.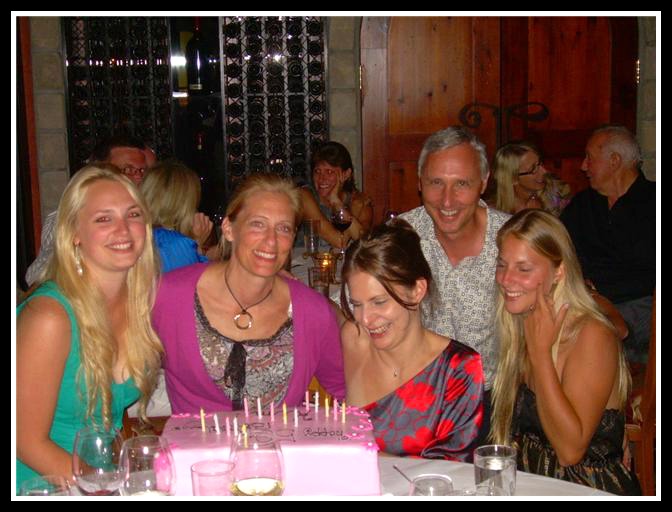 Due to complications that occurred after my surgery, I developed a full body infection that nearly killed me. As a result, I needed IV antibiotics for three months. I lost 30 lbs and the week I was clear of infection, I started six months of chemo. I was told this could bring the infection back and kill me, but without it, I would die.
I felt like I was somewhere between a rock and a hard place. While I was extremely grateful for the excellent care from my oncologist, his parting words left me feeling vulnerable and afraid. He said, "We will now watch and wait." I felt helpless and alone once I'd finished chemotherapy. I felt that I was no longer doing anything to help myself to heal, so I proceeded to do as instructed – watch and wait.
Quiet, lonely moments
I did my best to get on with my life with family and friends. Everyone said how well I'd gotten over it and how I seemed to be back to normal. Nothing could have been further from the truth.
I did my best to get back into my everyday life, including relationships, commitments, socializing and celebrations. All the while I felt empty inside; I was paralyzed with fear and everything felt shallow and meaningless. I didn't know how to express this to the ones I loved as they had already been through so much during my cancer year. My husband had been there with me for every single doctor appointment, every chemo session and every day I was in the hospital. He was tired too. I know I hadn't asked for it, but somehow I felt that I had hurt the ones I loved with my cancer. I felt alone and afraid. I took sleeping pills for two years because the quietest moments at night were the worst. My world slowly became smaller. Emotionally, I shut down. I was going through the motions of my life in neutral. I have heard people say that cancer is the scariest word in the English language and, at that point, I believed it.
Last Christmas my blood tests showed some changes. I was sure the cancer was back. I fell apart and, in doing so, I got to a place that was so barren that there was nowhere left to go but to seek help. I visited a therapist in White Rock who was a lifeline to me. She allowed me to reprocess my cancer experience and attach feelings to it all. During the cancer year, I was barely coping and there wasn't much room for feeling any of it. She recommended InspireHealth and after a few months of counselling I felt ready.
A sense of belonging
I signed up for the two day LIFE Program at InspireHealth and was nervous to attend. Even driving in and then walking up the steps to the seminar room I wasn't sure what I'd gotten myself into and told myself not to expect much. Deep down inside, however, I was very hopeful.
The moment Carol Thatcher began to talk about the essence of InspireHealth, I could feel her warmth, openness and acceptance. I knew I was in the right place at the right time. I experienced a deep sense of belonging. Since that time, I've heard many people say their only complaint about IH is that they wish they'd known about it sooner. For me, the timing was perfect and the IH message was planted on fertile soil. I realize I had long been searching for a better way to live my life and was ready to receive their hopeful message of healing the mind, body and spirit. This message was delivered in a way that was supportive, open, compassionate and, above all, empowering, with its cutting edge information.
The people who work at IH are professionals who know what is needed in order to face a cancer diagnosis square on. They inspired me to live my life to the fullest no matter what. The 90 minute doctor appointment was tailored to my specific needs in terms of testing, supplements, diet and exercise. Dr. Janice Wright was also supportive emotionally and spiritually. I began exploring meditation and mindfulness because of her empowerment workshop. This has helped me to change my life. I have always been interested in my spirituality and having cancer sped up the process with lightning speed. It gave me another chance to take time for myself – to meditate and become awakened and aware.
A silver lining
The LIFE Program and subsequent workshops changed my life in profound and meaningful ways. My fear of recurrence gave way to a feeling of deep gratitude for the healthcare I received, my life and the time I have. I see the interconnectedness of life and have learned that simply being human is precarious – regardless of a cancer diagnosis. I am grateful for my cancer journey. I see it as a gift – an opportunity to change and deepen my feelings and to have a more meaningful life. A life more open, precious and connected to the world, where my feelings run very deep even in the simplest and quietest moments. For me, this was the greatest silver lining of the cancer journey.
IH has filled an emotional void where the medical model of surgery and chemotherapy has fallen short. I feel empowered to heal myself by going easier on myself and others. By being more compassionate with myself, I could be more compassionate with others. By accepting and being open about my cancer diagnosis and my own flaws, I could be more open and accept the flaws in others. With self acceptance comes an acceptance of my life exactly the way it is. The ability to just 'let it be'.
Personally, the problems and stresses of daily life no longer affect me like they used to. I can step outside many difficult decisions and situations and mindfully make better choices for myself. I no longer get caught up in what might have been or the 'what may happen next'. I am living in the moment – the now and with this comes a sense of peace and knowing that I am okay. I can handle whatever I am faced with at any given moment. Knowing that whether it is the good, bad or the ugly – I will now fearlessly and mindfully move forward through my life and hold on with all my heart to the silver linings!
I am now looking forward to volunteering at IH in the hope of giving back for the support they have given to me.
"The world breaks everyone, and afterward many are strong at the broken places."
– Ernest Hemmingway