December 9, 2011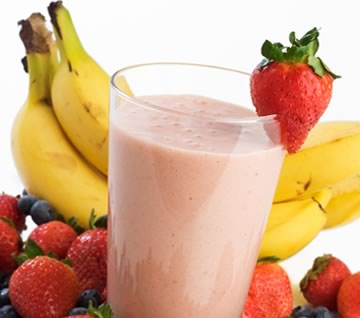 Those who embark on a healing journey can often find themselves facing a time when certain foods are difficult to digest. It is during such times when sippable meals work as an alternative food option.
Juices and smoothies, when filled with fruits, vegetables and low sugar additions, super-charge your body with the vitamins, minerals and powerful phytochemicals that your body needs to repair, recover and restore.
Whether you're interested in eating more raw foods, incorporating more veggies into your diet or need convenient nutrition when you aren't feeling well, juices and blended drinks can be an excellent addition to any eating plan.
So, where do you start if you are new to drinking your produce? I suggest that you try a smoothie. As most people already have a blender, smoothies don't require investing in expensive new equipment that may not fit your lifestyle. Smoothies are beneficial because you are consuming the whole food, with all of its cleansing fibre and any associated nutrients intact. Use a neutral, low-sugar liquid for your smoothie such as coconut water, unsweetened almond milk or plain water, and then experiment with endless possibilities!
Frozen berries are a nutritious base for a super smoothie. Their rich flavor also makes a great foil for kale. Simply strip kale off of its stalks and add 3-4 leaves to a blueberry smoothie for a gentle introduction to gulpable greens. If you are looking for extra energy to keep your strength up during recovery, blend raw avocado into any smoothie to transform it into an energy-rich, creamy treat. Other easy-to-enjoy smoothie combinations include pears with cultured coconut and ginger or raw cocoa, or almond butter and bananas.
For those ready to explore juicing, frequent your favourite juice bars first to ensure that daily juicing works for you before investing in equipment, and do your homework carefully when choosing a juicer. If you will be juicing lots of fibrous veggies such as carrots, greens and celery, then you will need a heavier duty machine rather than your standard orange juicer. Juicing stands out because it concentrates nutrients in a way that is easily digested and assimilated into your body.
Because you are concentrating your food, choose organic fruits and veggies whenever you can. It would be difficult to eat 5 cucumbers, 6 cups of spinach and 2 apples in one sitting, but it is easy to drink a juice made out of those ingredients! When the fibre is removed, nutrients move into your system rapidly, and it is, therefore, important to watch the amount of fruit and sweet veggies that you juice in order to keep blood sugars stabilized. Beets and carrots are naturally sweet and offer a great introduction for those new to vegetable juicing.
Of all the liquid love, green drinks deserve special recognition. Greens are particularly cleansing and nutritious, so sipping your greens is a great way to get a nutrient boost without a blood sugar spike. Try juicing cucumbers with lemon, apple with fennel or kale, or watercress and pear.
Smoothies and juices provide a flexibility that can be very helpful in times of taste and appetite changes. If a food tastes particularly bitter to you, sweeten things up with carrots, beets, oranges or apples. If food tastes sweet or metallic, add a bracing squeeze of lemon to your juice. If you find that juicing is bothering your stomach, pull back from the greens and consider drinking more smoothies than juices.
Have fun and experiment with different varieties. The combinations are only limited by your imagination!
Desiree Nielsen, RD, Choices Dietitian
For more grocery and cooking tips, I invite you to visit us in store or come along on an InspireHealth Nutrition Tour. To support the InspireHealth community, we are offering this new, complimentary service every other Friday at 11:30am at our Kitsilano location. The key InspireHealth food and nutrition teachings will be put into practice at the store with Choices' dietitian. Learn practical tips and techniques for incorporating more healthful foods into your life and understand more about foods you should be cautious towards.
Tours are FREE and open to all InspireHealth members, however, registration is required. Please call 604-734-7125 to join the next tour!