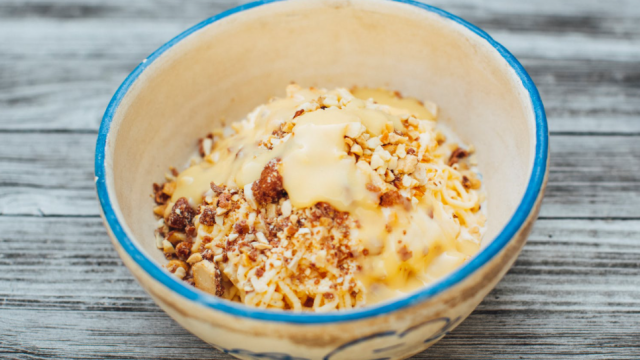 Instructions
In the evening before bed, place desired amount of grains – I use a mixture of steel cut and slow oats and/or buckwheat groats, a multi-grain mix; rye and/or kamut flakes.

(Note: that amaranth and millet take much longer to boil and require more water than flaked or even cut grains. Allow up to 35 minutes to cook).

Add a tsp. of fenugreek seeds into a saucepan for added flavor and nutrition. Cover with plenty of filtered water (remember that your steel cut/flaked grains will about double in size so put about 2:1 water to grains). You can also add a splash apple cider vinegar, lemon, yogurt or kefir to the grains to accelerate the preparation of the grains overnight.

The next morning (do not discard water from rolled, flaked or cut grains, only solid, intact ones) add organic blackstrap molasses, unrefined sea salt, cinnamon and/or cardamom, butter or ghee and other desired ingredients such as organic shredded coconut.

Cover and cook on just below medium on the stovetop for about 7-12 minutes or until it reaches your desired consistency.

Remove from heat, stir, add prepared seeds or nuts for added texture and sweeten with maple syrup or raw honey. Use quality organic brown rice or nut milk (home-made, if possible) and/or a plain organic non-homogenized yogurt (such as Saugeen plain or Jerseyland Organics plain) for creamy texture.

Other recommended additions: hemp, chia, salba or ground flax seeds (be sure to add these after removing from the heat (even after the milk is added), as the heat could potentially damage the delicate oils in the hemp and flax.

Always use organic grains whenever possible and always pre-soak them for 8-12 hours for optimal digestion and absorbability of nutrients.

Serve and enjoy!

Play around a little, there are many grain variations to keep this healthy staple interesting.