Back to Blog
Your support of cancer patients like John puts them squarely on the road to recovery.
July 28, 2022
"It's scary to think how I would have coped without InspireHealth." 
John came to InspireHealth when he faced an unexpected cancer diagnosis. For him, supportive cancer care meant not only accessing tools for physical recovery but receiving emotional support as well.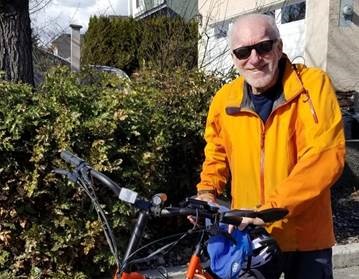 In his own words:
"About five years ago, I was diagnosed with prostate cancer—a total shock and surprise. I was a very healthy 69-year-old. Running, biking, skiing, and no major health issues to speak of. My doctor told me that there was no time to lose. Hormone therapy, direct beam radiation, and brachytherapy quickly followed. 
The hardest thing about prostate cancer was the side effects of the radiation and the impacts it had on my intimate life. The shock of the news was another major hurdle because I – and the friends I spoke to – didn't know anything about prostate cancer. Having someone to speak to other than my wife, who was processing this all herself, made such a difference." 
John quickly found his way to InspireHealth and within several months had benefitted greatly from the supportive care provided by our team of physicians, dietitians, counsellors and exercise therapists. John has said the relaxing, inviting, convenient care he received was in line with his views on how integrative care should complement standard medical treatments.
John is now in full remission and navigating post-treatment side-effects with the support of his wife Cathy, family, friends and InspireHealth. When reflecting on his cancer journey, John is grateful for the support received.
He shares: "It's scary to think how I would have coped without InspireHealth." 
Please support cancer patients like John by making a gift today!
InspireHealth provides free, personalized, supportive cancer care to hundreds of patients like John every month through individual appointments, group classes, and workshops. The generosity of donors makes this possible. Please consider showing your support with a one-time gift or by becoming a monthly donor. Your impact makes all the difference. Thank you.
No referral is needed to become a patient. If you know someone who may benefit from InspireHealth's supportive cancer care, please let them know about our free, easily accessible services. They can get more information and register online at www.inspirehealth.ca.