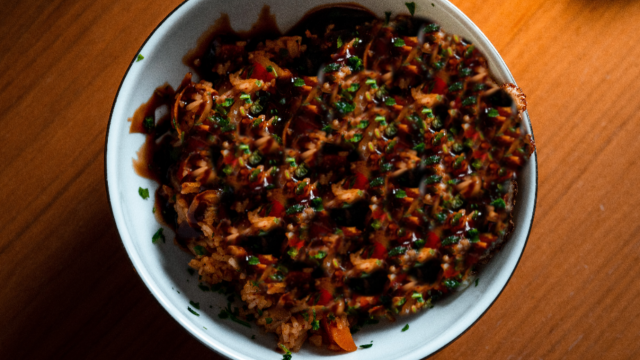 Another favourite from our Life Program, this amazing, colourful, chewy salad is as delicious as it is nutrititious.With its combination of black rice, brown rice, and edamame, this salad has all the essential amino acids required by the body making it a complete source of protein.
Prep & Cook Time: 45 minutes 
Servings:
8
as a side dish
Ingredients
Ingredients
1

cup

black japonica rice

1

cup

brown rice

1

cup

edamame

shelled

1

cup

celery

thinly sliced diagonally

1

cup

carrot

shredded

1/2

red bell pepper

diced

1/4

cup

scallions

thinly sliced diagonally

1/2

cup

pumpkin seeds

toasted

1/2

cup

cilantro

chopped

1/2

cup

basil

chopped
Dressing
2

tbsp

apple cider vinegar

3

tbsp

tamari

1

tbsp

ginger

minced

1

clove garlic

minced

1/4

cup

olive oil

1

tbsp

sesame oil

3

tbsp

lime juice

1

tbsp

maple syrup

pinch cayenne pepper
Instructions
Directions
1. The day before, soak both rices in water to cover in separate bowls, adding a capful of apple cider vinegar to each bowl.

2. Drain both rices well.

3. Brown Rice – add drained rice  to 1.5 cups  salted water. Bring to a boil, lower heat to simmer and put lid on.  After 20 minutes, check if done.  When cooked, if too damp, turn stove top element off, place towel over top of pan and cover with lid.  Let rice sit for about 10 minutes.

4. Black Rice – Add to 1.5 cups of salted water in a large heavy-bottomed pot with a well-fitted lid.  Bring to a boil, reduce the heat and allow the rice to simmer.  Begin checking the rice after 30 minutes; if thoroughly cooked and chewy, remove from heat.

5. Place both cooked rices on sheet pans and fluff with a  fork to separate the grains and cool.

6. In another medium pot, bring 3-4 cups of water to a boil over high heat.  Add a pinch of salt and blanch the edamame until just tender, about 1 minute. Transfer to a colander and rinse with cold water. Set aside.

7. In a large bowl, combine the cooled rices, celery, carrot, red pepper and scallions.

8. Prepare the dressing by whisking the vinegar, tamari, ginger, garlic, cayenne, olive oil, toasted sesame oil, lime juice, salt and maple syrup together.  Pour over the rice mixture.  Stir in edamame, pumpkin seeds (reserve a few for garnish), cilantro, and basil.  Serve in a salad bowl with garnish.