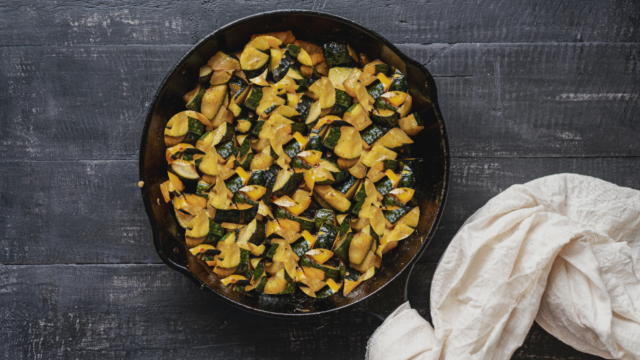 Nutritional Value of Select Ingredients
Zucchini – As they are 95% water, zucchini are an excellent 'diet' food. They have anti-cancer properties, and are particularly beneficial in the summer months because of their high water content (prevents dehydration) and carotenes (to protect against damaging effects of the sun). They are also a good source of vitamin C, manganese, phytonutrients, and fibre.
Sesame Seeds – By weight, sesame seeds are higher than liver in iron. They are also high in calcium, magnesium, protein, fibre, other vitamins and minerals, and EFA's.
Garlic – Garlic is touted as a "cure-all" due to its many uses in medicine. It has a beneficial effect on heart disease, cancer, and infectious diseases. It decreases cholesterol levels, detoxifies the body, stimulates the immune system, and the list goes on and on. Eat garlic raw and regularly for maximum benefits.
Tamari – Tamari is the original form of soy sauce. It is naturally fermented from soy beans, so is high in protein and phytonutrients. Tamari is a superior choice over commercial soy sauce, as it does not contain artificial additives and preservatives.
Ingredients
1

tbsp

butter

1

tbsp

large zucchini, halved lengthwise and cut into 1 inch slices

1/2

cup

sesame seeds

ground black pepper (to taste)
Instructions
Directions
Melt butter in a skillet over medium heat.

Stir in the zucchini and cook until lightly browned.

Sprinkle with Bragg seasoning or tamari and sesame seeds.

Season with garlic and pepper, and continue cooking until zucchini is well coated and tender.

Serve warm or at room temperature.