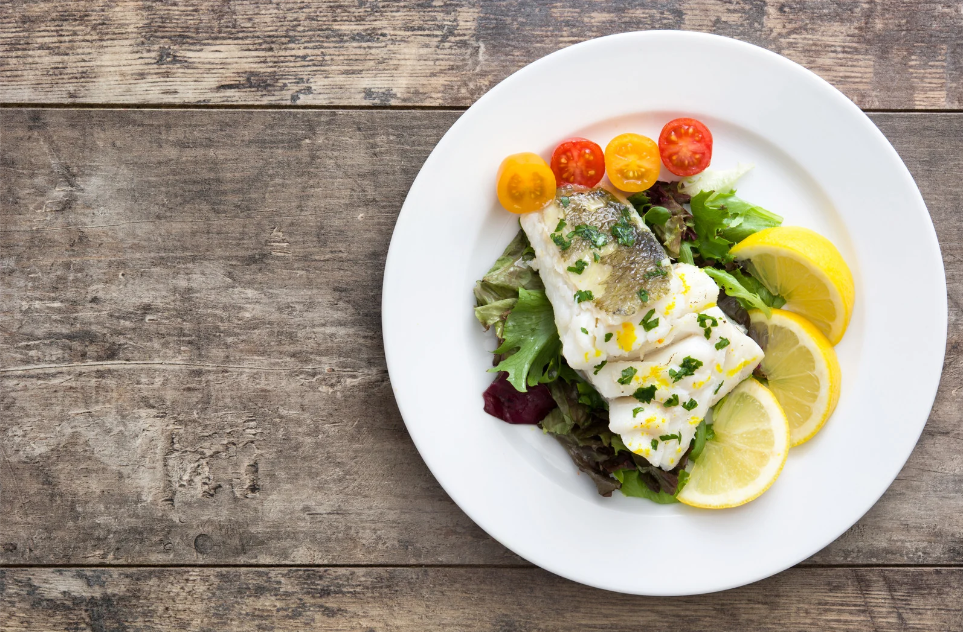 Ingredients
Fish
1

large whitefish, trout, or other whole fish

1/4

cup

olive oil

1

tbsp

cayenne pepper (optional)

1

tbsp

pepper

1

tbsp

cumin

lemon juice (to taste)

salt (to taste)
Stuffing
1/3

cup

pine nuts or chopped almonds

2

tbsp

olive oil

1

cup

parsley, chopped

3

cloves of garlic, crushed

salt (to taste)

pepper (to taste)

allspice (to taste)
Instructions
Stuffing – Sauté nuts in olive oil until lightly brown. Add parsley and spices and sauté for one minute. Stuff raw fish with mixture.Fish – Wash fish. Sprinkle with salt and lemon juice. Add spices if desired. Let stand for ½ hour; drain. Coat fish with oil, stuff, and place in baking pan. To prevent fish from drying, bake in covered pan or wrap with foil, lightly greased with oil. Bake at 350ºF in a preheated over for 30-40 minutes, or until fish in tender and easily flaked.
Notes
Nutritional Value of Select Ingredients
Fish – Most species of fish are high in omega-3 fatty acids – which help with at least 60 different health conditions. Most notably, fish helps lower the risk of heart disease. Fish oils are also anti-inflammatory, lower blood pressure, and can inhibit the growth of several types of cancer cells. Eat smaller fish to reduce your intake of metals and contaminants.
Garlic – Garlic is touted as a "cure-all" due to its many uses in medicine. It has a beneficial effect on heart disease, cancer, and infectious diseases. It decreases cholesterol levels, detoxifies the body, stimulates the immune system, and the list goes on and on. Eat garlic raw and regularly for maximum benefits.
Olive Oil – Cold pressed extra virgin olive oil is a great monounsaturated fatty acid, especially for cooking. It has a variety of vitamins and minerals, can help lower LDL cholesterol, controls blood pressure, and aid in diabetes.
Parsley – This herb is useful as a diuretic, detoxification, and ingestion, and supports the lungs and spleen. Great for the kidneys, parsley is packed with vitamins, minerals, fibre, and phytonutrients.
Almonds –Almonds are called the king of nuts because they are high in calcium, potassium, magnesium, phosphorus, folic acid, EFA's, and protein. Loaded with phytonutrients, they are called the anti-cancer nut.
Lemon Juice – With its antibacterial properties and high levels of vitamin C, lemon juice is a great addition to any recipe. It is also great for balancing pH and detoxifying the body.
Adapted from Dr. Peter D'Adamo, Eat Right 4 your Type, 1996
Photo by Ulvi Safari