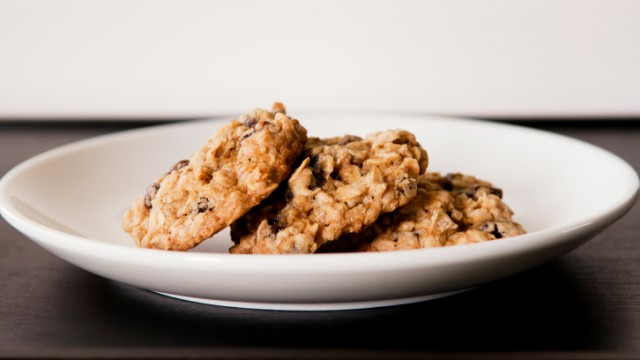 Ingredients
3

large ripe bananas

1

tbsp

vanilla extract

1/4

cup

coconut oil, melted but cooled

2

cups

rolled oats

2/3

cup

almond meal (can grind almonds in coffee grinder or buy pre-ground)

1/3

cup

coconut, finely shredded

1/2

tbsp

cinnamon

1/2

tbsp

salt

1

tbsp

baking powder

1/2

cup

add-ins  (e.g. raisins, cranberries, dark chocolate chips, etc)
Instructions
Preheat oven to 350ºF with racks in the top third. In a large bowl, mash banana well. Add vanilla extract and coconut oil. Set aside. In another bowl, mix together oats, almond meal, shredded coconut, cinnamon, salt, and baking powder. Add the dry ingredients to the wet ingredients and stir until combined. Fold in the add-ins. The dough is a bit looser than standard cookie dough; perfectly fine. Drop dollops of the batter, about 2 teaspoons in size, an inch apart, onto a parchment lined baking sheet. Bake for 12-14 minutes. Makes about 3 dozen bite-sized cookies.
Nutritional Value of Select Ingredients
Bananas – Bananas are good for the nerves, muscles, liver, and kidneys, and feed good bacteria in the colon. They can aid in sleep, lessening pain, and enhancing immune function. With the exception of avocados and dates, bananas are the fruit with the highest concentration of potassium.

Coconut Oil – The oil from the coconut are monosaturates of the omega 7 family. Contrary to popular belief, coconut oil actually helps raise good HDL cholesterol levels. Tropical oils have been part of a healthy tropical lifestyle for thousands of years, and are very stable for cooking and baking. Thailand, where coconut and its products are found in virtually every dish, has the one of the lowest cancer rates in the world.

Oats – This grain is a great source of complex carbs, and is high in protein and fibre. They can help normalize blood sugar levels, and are good for a sluggish thyroid. Oats are high in tryptophan, iron, and phytochemicals.

Almonds – Almonds are called the king of nuts because they are high in calcium, potassium, magnesium, phosphorus, folic acid, EFA's, and protein. Loaded with phytonutrients, they are called the anti-cancer nut.
Notes
Adapted from 101cookbooks.com