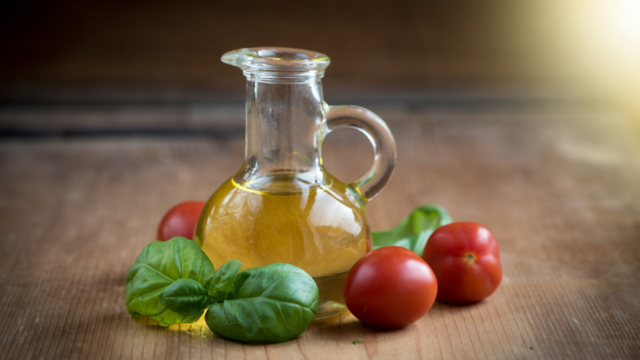 This tangy, basic dressing can be made in a small quantity directly in your salad bowl or you can make a whole jar full to last you for the week.
Prep: 10 minutes
Ingredients
Directly in your salad bowl:
3

tbsp

olive oil

1

tbsp

apple cider vinegar (or lemon juice)

1/2

clove garlic, minced

Pinch of salt
Jar full:
3/4

cup

olive oil

1/4

cup

apple cider vinegar or lemon juice

1

clove garlic, minced

Pinch of salt (to taste)
Instructions
For one salad bowl:
Whisk all the ingredients together in the bottom of a salad bowl. Add your freshly washed salad ingredients and toss.
For a jar full:
Shake ingredients together in a glass jar.  Store in the refrigerator for up to one week.
Add one or more of the following for variety:
– Dijon mustard

– raw honey or maple syrup

– fresh or dried herbs such as basil, oregano, parsley, cilantro, chives, marjoram,dill and thyme

– tahini

– lemon, orange or lime juice instead of the vinegar for a refreshing change
Notes
A simple dressing made with fresh olive oil, fresh vinegar and salt and pepper can last in the refrigerator up to 12 months. According to Health Canada, storing garlic in oil in the refrigerator for longer than a week may pose a health risk. If you are adding any other ingredients to your basic dressing, err on the side of caution and only store for one week to avoid bacterial contamination. Commercial dressings can last for months because of added preservatives.