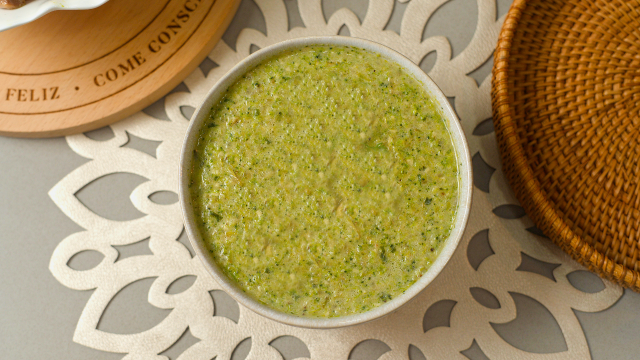 This traditional recipe formulated by Dr. Henry G Bieler, is great for increasing alkalinity, promoting detoxification, and supplying a great amount of minerals and vitamins in an easily accessible form. Still includes the fibre of the vegetables, so also is very filling. Also great during times of illness, diarrhea, or exercise to replace electrolytes.
Ingredients
2

zucchini, medium

2

stalks celery

1

cup

green beans

1

handful fresh parsley, chopped

1

clove garlic

(optional)

1

handful watercress, chopped

(optional)
Instructions
Chop zucchini, green beans, and celery (chop celery into very small pieces to avoid stringy soup). Place in steamer and steam over ~ 4 cups of clean filtered water until very soft – around 15 minutes. Place steamed veggies, steaming water, and parsley, garlic, and watercress into blender and blend until smooth. Sip hot throughout the day.

Ange's Note: I like to double the batch and make very thick. Then when I want a cup, I fill a mug half full and top up with boiling water. Like instant cup-a-soup! Drink like tea throughout the day.
Notes
Nutritional Value of Select Ingredients
Zucchini – As they are 95% water, zucchini are an excellent 'diet' food. They have anti-cancer properties, and are particularly beneficial in the summer months because of their high water content (prevents dehydration) and carotenes (to protect against damaging effects of the sun). Also a good source of vitamin C, manganese, phytonutrients, and fibre.
Celery – Eating 2 to 4 stalks of celery a day can lower blood pressure, especially if due to stress. It helps protect against cancer, is a mild diuretic, aids in weight loss and digestion, is a detoxifier and can stimulate sex drive. High in vitamins, minerals and phytonutrients.
Green Beans – Edible-podded beans are a rich source of iron, antioxidants, folic acid, vitamin B6, magnesium, and fibre. They aid in regulating bowel function, minimizing effects of declining estrogen levels, lower cholesterol, and contain inositol which promotes normal live and pancreas function.
Parsley – This herb is useful as a diuretic, for detoxification and ingestion, and helps the lungs and spleen. Great for kidneys, it is full of minerals, vitamins, fibre and phytonutrients.
Garlic – Garlic is touted as a "cure-all" due to its many uses in medicine. It has a beneficial effect on heart disease, cancer, and infectious diseases. It decreases cholesterol levels, detoxifies the body, stimulates the immune system, and the list goes on and on.
Recipe adapted from Dr. Henry G Bieler