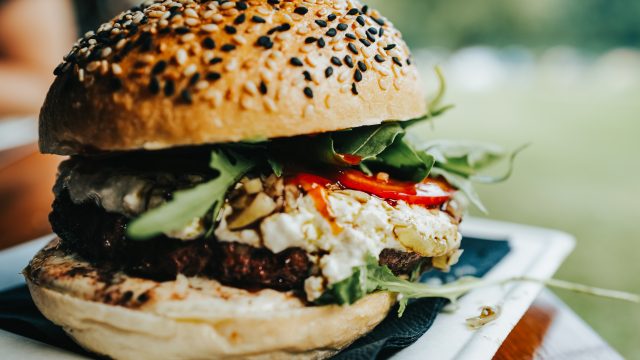 Prep time: 20 minutes Baking time: 20 minutes
Makes: 8-12 patties
You can have a lot of culinary fun with this recipe by experimenting with different beans, spices, herbs, nuts and seeds. This version has a Mexican slant but by changing a few ingredients you could go for a Thai, Mediterranean or Indian flavour.
Beans – High in fibre and protein, yet very low in fat, beans can help lower cholesterol and blood pressure. They protect against cancers, diabetes, and because of their high levels of manganese, keep bones strong.
Onions – Because they are high in sulfur, onions help lower cholesterol, inhibit cancerous tumor growth, help manage diabetes, and are an anti-inflammatory, antibacterial, and antifungal food. Eat them daily – raw or cooked.
Walnuts – These nuts contain beneficial polyunsaturated fatty acids that are great for the brain and for lowering cholesterol. Not only a great source of omega-3 fatty acids that can help reduce inflammation, they are also high in protein, fibre, minerals, and vitamins as well.
Ingredients
1

small carrot, grated

1/2

small onion, minced

2

cloves garlic, minced

1/2

cup

sunflower seeds or walnuts

1

handful parsley, cilantro or basil

1 (16oz)

can

black beans, rinsed and drained

1

egg, beaten

1/2

cup

rolled oats or oat flour

2

tsp

chili powder

1

tsp

turmeric

1/4

tsp

salt

(if beans are unsalted)

ground pepper

(to taste)
Instructions
With a food processor: Finely chop/grate the carrots and onions in the food processor. Add all the other ingredients and pulse until you get the texture you want. Some people like it "chunky" and others like it "smooth".By hand or immersion blender: Chop or grate all veggies into very small pieces. Add all the other ingredients and mash with your hands until well mixed or use an immersion blender to mix all together.(If the mixture seems too runny or doesn't stick together, cover and chill for 20 minutes.)

With wet or oiled hands, form small patties and place on a greased baking sheet.

Bake at 350 degrees F for 10-15 minutes per side or you can fry in a little bit of oil on the stovetop.
To freeze:
Form patties and freeze on a baking sheet. Once the patties are frozen, place a piece of waxed paper or parchment paper in between each patty and then place in a freezer bag. Cook from the frozen state.
Notes
Variations
Beans – kidney, garbanzos, white, pinto
Veggies – finely chopped or grated mushrooms, zucchini, sweet or hot peppers, corn, beets, sweet potatoes
Nuts & Seeds – pumpkin, hemp, chia or sesame seeds or nuts like almonds, walnuts or pecans
Grains – cooked brown rice, quinoa or wild rice
Spices & Herbs – fresh or dried oregano, marjoram, sage, dill, cilantro, basil, cayenne, cumin, curry
Eggs – in place of eggs, try 1 Tbs flax meal or chia seeds mixed with 3 Tbs water (let sit for 5 minutes)
Download a printable PDF
Photo by Miha Rekar