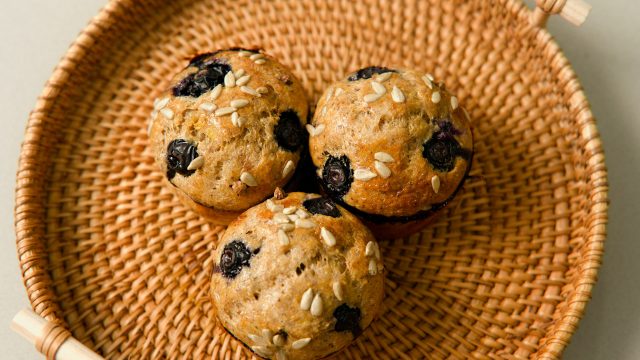 Ingredients
1/2

cup

water, lukewarm

1

egg

1/2

cup

honey or maple syrup

1

tsp

vanilla extract

3

tbsp

coconut oil, melted

1 1/4

cup

combination of spelt, buckwheat, or whole wheat flour

1/4

cup

ground flax seeds

2

tsp

baking powder

1/4

tsp

sea salt

1

cup

blueberries
Instructions
Combine water, egg, honey, vanilla, and coconut oil in a bowl and mix thoroughly.

In a separate bowl combine flour, ground flax, baking powder, and salt.

Add the dry ingredients to the wet, mixing just until moistened.

Fold in blueberries; pour into greased muffin tins.

Bake for 15 minutes. Makes 12 muffins.
Notes
Nutritional Value of Select Ingredients
Blueberries – A king in the nutrition world, these berries contain one of the highest amounts of antioxidants of any fruit or vegetable. A great source of vitamin C and fibre as well, blueberries protect against age-related conditions like Alzheimer's disease, help improve vision, and normalize the bowels.
Coconut Oil – The oil from the coconut are monosaturates of the omega 7 family. Contrary to popular belief, coconut oil actually helps raise good HDL cholesterol levels. Tropical oils have been part of a healthy tropical lifestyle for thousands of years, and are very stable for cooking and baking. Thailand, where coconut and its products are found in virtually every dish, has the one of the lowest cancer rates in the world.
Flax seeds – Flax seedsare a great laxative, and are high in essential fatty acids (EFA's) (when ground or chewed). They are full of anti-cancer lignans and phytoestrogens. The oil found in flax seeds can aid in reducing cholesterol and slow the progression or rheumatoid arthritis and atherosclerosis.
Spelt – This sweet, nutty grain is a grain tolerated by people with gluten-sensitivities (however it does contain gluten). It contains all 8 essential amino acids, and special carbohydrates that play a major role in blood clotting and stimulating the immune system. Spelt is higher in amino acids, protein, some minerals, and B vitamins than wheat.
Honey – This is a natural sweetener that contains vitamins, minerals, and propolis. It is a great source of magnesium. A whole food, honey is an excellent replacement for brown or white cane sugar, which is detrimental to our health.
Recipe adapted from Siegfried Gursche, MH.