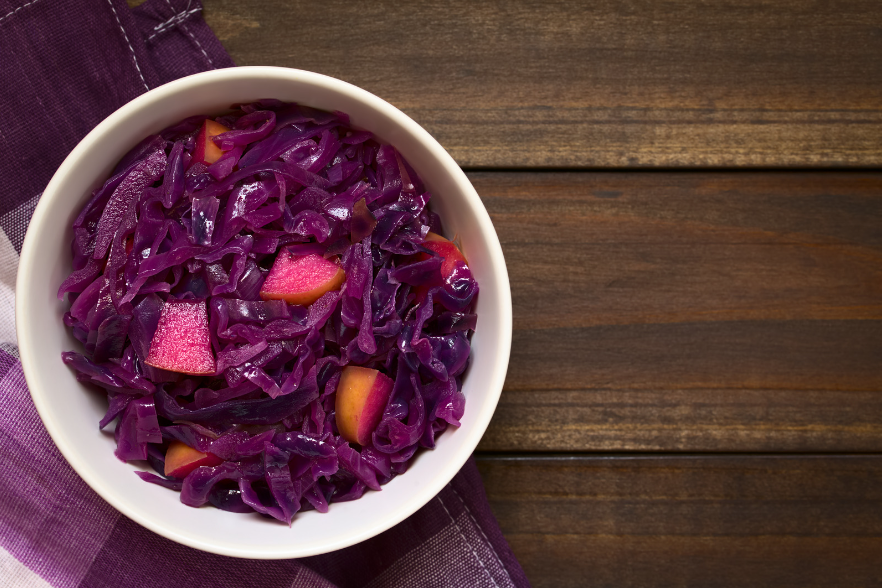 Cabbage is a member of the cruciferous vegetable family that is being studied for its anti-cancerous properties.
Prep & Cook Time: 30 minutes – Serves 4
Ingredients
2

tsp

coconut oil

1

medium onion, thinly sliced

2

apples, cored and thinly sliced

1/2

purple cabbage, shredded

1/2

cup

sweet apple cider

1

bay leaf

2

tsp

apple cider vinegar

Salt

(to taste)
Instructions
Melt the coconut oil in a large skillet or pot over moderately high heat, and then toss in sliced onion. Sauté until translucent and a bit caramelized at the edges, 6 to 8 minutes. Stir in the apples and sauté until fragrant, a further 2 to 3 minutes.

Reduce heat to medium, toss in chopped cabbage, stir well to bring the apples and onions to the surface, and cook for about 5 minutes. Pour sweet apple cider into the cabbage and apples, and toss in the bay leaf. Simmer, uncovered, for 30 to 35 minutes or until the cabbage and apples are softened and the liquid is largely evaporated.

Sprinkle the dish with unrefined salt and stir in the apple cider vinegar. Remove bay leaf and continue cooking over medium heat for a further 2 to 3 minutes before serving.