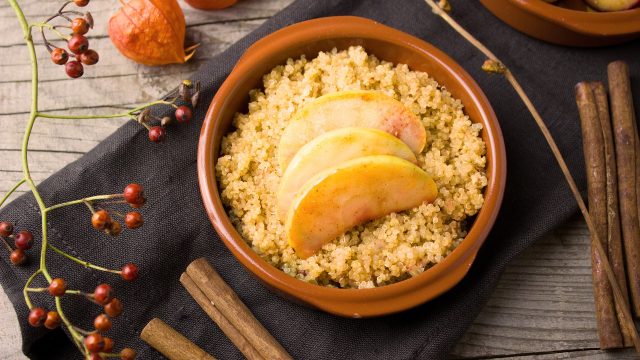 Ingredients
¾

cup

quinoa

½

apple, chopped

1

tbsp

raisins

1

tbsp

walnuts or almonds, chopped

½

tbsp

cinnamon

½

tbsp

ground sesame and/or flax seeds

1

tbsp

flax or hemp oil

maple syrup or honey, to taste
Instructions
Rinse quinoa under running water for a few minutes.

Cook quinoa in 1 cup of water until water is absorbed (about 15-20 minutes).

Once cooked, mix in apple, raisins, nuts, cinnamon, ground seeds, and oil.

Add maple syrup or honey to taste, and brown rice or almond milk if desired.
Notes
Nutritional Values of Selected Ingredients
Quinoa – Quinoa is called a "super grain" because of its high nutritional value. It provides all the essential amino acids, and is also high in iron, vitamins B3 and B6, and phosphorus. It is gluten-free, makes an excellent substitute for rice or pasta in recipes, and can also be made as a breakfast cereal.
Cinnamon – Cinnamon has antiseptic properties, is a digestive aid, has anticancer properties, and is beneficial for the heart, lungs, and kidneys. It also helps lower blood pressure and makes insulin more efficient.
Walnuts – Walnuts contain beneficial polyunsaturated fatty acids that are great for the brain and lowering cholesterol. They are high in protein, fibre, minerals, and vitamins.
Raisins – These powerhouses of energy contain iron, potassium, calcium, magnesium, phosphorus, and B vitamins, plus fructose that give us that little boost of energy via natural fruit sugars.
Apples – Very high in fibre, apples help detoxify the body, stabilize blood sugar, and protect against the effects of radiation. They are high in many vitamins and minerals.
Flax oil – This is one of the richest sources of omega 3 fatty acids, the kind that is deficient most people's diets. It can aid in reducing cholesterol and slow the progression or rheumatoid arthritis and atherosclerosis.
Sesame Seeds – By weight, sesame seeds are higher than liver in iron. They are also high in calcium, magnesium, protein, fibre, other vitamins and minerals, and EFA's.
Recipe adapted from Darko Prce