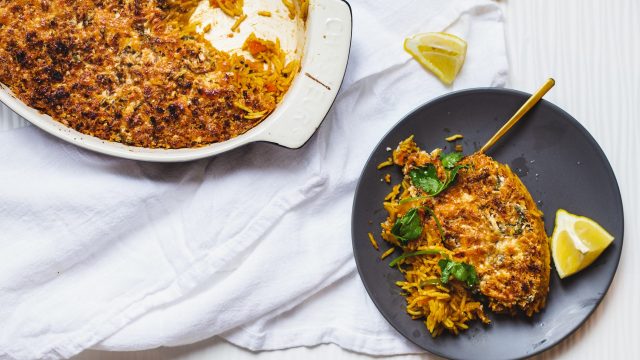 A fresh spin on an Asian classic! Each mouthful is a mixture of different tastes, colours and textures. A great dish to bring to a potluck or a picnic or to serve as part of a buffet.
Prep, Cook  & Cool Time: 60 minutes – Serves 4
Ingredients
1

cup

brown rice

1

cup

broccoli, chopped into bite-size pieces

2

tsp

butter

2

eggs

2

tsp

tamari sauce

1

garlic clove, minced

1

tsp

ginger, grated

2

tbsp

sesame oil

1/2

tsp

toasted sesame oil

1

tbsp

apple cider vinegar

2

tsp

honey

1/2

cup

carrot, shredded

1/4

cup

sprouts

1/4

cup

green onions, sliced

1/4

cup

pumpkin seeds, lightly toasted

2

tsp

sesame seeds

Ground pepper

(to taste)
Instructions
Soak the rice overnight. Rinse well. Place rice and 1.5 cups of water and a pinch of salt into a large pot and bring to a boil. Reduce heat, cover and simmer without removing lid for 30 minutes. Remove from heat and let sit for 10 minutes.

Transfer to a large mixing bowl to cool.

Steam the broccoli lightly in covered pot with a steamer. The broccoli is done when it is bright green and can be pierced with a fork. Remove from steamer and cool with the rice in the large mixing bowl.

Heat butter over medium heat in a saucepan. Beat the eggs and tamari and pour into pan. Swirl eggs around to form a thin layer. Cook for 1 minute. Gently flip and cook for another minute. Remove to a cutting board, allow to cool, and thinly slice.

Prepare dressing. Mix garlic, ginger, sesame oil, toasted sesame oil, apple cider vinegar, honey, and black pepper together. Add water to thin if necessary and tamari to taste. The dressing should be slightly salty as it will subside when tossed with salad. Set aside.

Toss the rice, broccoli, carrots, sprouts, cilantro, green onions, and pumpkin seeds with dressing. Gently stir in egg and garnish with sesame seeds.
Notes