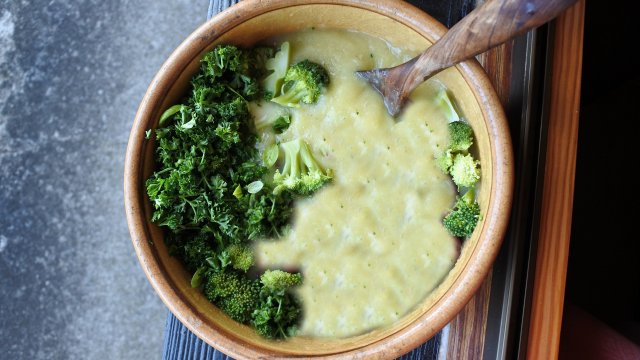 Ingredients
2

tsp

butter

1

cup

chopped onions

8

cups

broccoli (florets and stems)

8

cups

cauliflower (florets and stems)

4

cups

low sodium vegetable or chicken broth

2

bay

leaves

2

tsp

fresh thyme (or ¾ teaspoon dried)

2

cups

milk of choice

Salt and pepper

(to taste)

1/2

cup

shredded goat mozzarella or goat feta

(optional)

2

tbsp

chopped fresh basil, for garnish
Instructions
Melt butter in a large, heavy saucepan over medium heat. Add onions and sauté until soft. Add broccoli (reserving a few florets), cauliflower, broth, bay leaves, and thyme. Bring to a boil, reduce heat and simmer, covered, for about 30 minutes, stirring occasionally.

Discard the bay leaves. Process the mixture in a food processor, with an immersion blender, or in batches in a blender until smooth.

Return to saucepan. Add reserved broccoli florets and cook for 5 minutes. Add milk and cook until heated through. Season with salt and pepper. Serve garnished with cheese and basil.
Notes
Nutritional Value
Broccoli – As a member of the cruciferous vegetable family, broccoli has remarkable anticancer effects, particularly in breast cancer. It helps the liver in its detoxification processes, has antioxidant effects, and is effective in ridding the body of H. pylori.
Cauliflower – Cauliflower is also a member of the cruciferous vegetable family, and as such contains compounds that may help prevent and protect against cancer. It is a good source of boron, vitamin K, vitamin C, and fibre.
Onions – Because they are high in sulfur, onions help lower cholesterol, inhibit cancerous tumor growth, help manage diabetes, and are an anti-inflammatory, antibacterial, and antifungal food that are also a blood tonic. Eat them daily – raw or cooked.
Thyme – This herb is used as a digestive aid, cough and laryngitis remedy, and antiseptic. Thyme is useful for upper respiratory and urinary tract infections, and has antioxidant, anti-inflammatory, and cancer-preventative actions.
Goat Cheese – A great substitute for dairy cheeses, goat cheese less allergenic and is much easier for most people to digest. Cow's have four stomachs whereas goats and humans both have only one. We digest in more of a similar manner, allowing for better tolerance and digestion of goat milk products.
Adapted from Rosie Schwartz, The Enlightened Eater's Whole Food Guide, 2003
Photo by Samee Anderson