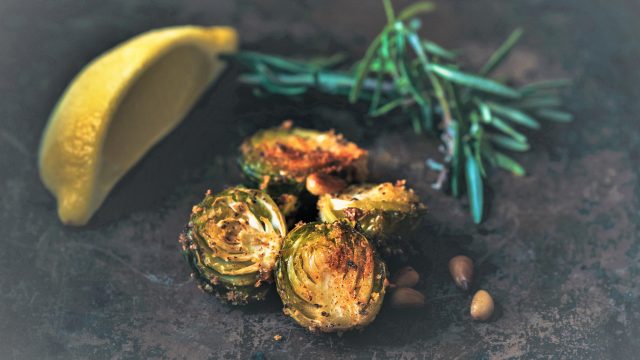 This Brussels Sprouts recipe will have your guests asking for more!
Not only a great way to eat some cruciferous veggies to support the detoxification of carcinogens, but pine nuts are a great source of magnesium, a mineral required for relaxation and therefore helpful with sleep. If you prefer to leave the pancetta out, top with a hefty dose of fresh lemon juice.
Ingredients
2

pounds

Brussels sprouts

Splash olive oil

5

oz

pancetta or prosciutto, diced

1/2

cup

pine nuts, toasted

Salt and pepper

(to taste)
Instructions
Preheat oven to 400 degrees C.

Slice brussels sprouts in half lengthwise, remove any loose outer leaves and trim the bottom stems. Toss in olive oil and add pancetta or prosciutto, salt and pepper.

Spread out on a baking sheet in a single layer, and bake for 20 to 30 minutes until meat is crispy.

Stir occasionally to ensure even cooling.Toss with pine nuts and serve.
Notes
Nutritional Value of Select Ingredients
Brussels Sprouts – As a member of the cruciferous vegetable family, these sprouts are high in sulphur making them great for the liver. They also have many anti-cancer compounds, even higher than broccoli. Very high in vitamins K and C.
Olive Oil – Cold pressed extra virgin olive oil is an excellent source of monounsaturated fatty acids, making this oil quite stable for medium temperature cooking. It has a good variety of vitamins and minerals, and can help lower LDL cholesterol, control blood pressure, and aid in diabetes.
Pine Nuts – These nuts are high in mono-unsaturated fats and essential fatty acids, some of which show some appetite-curbing properties. They are also high in B vitamins and manganese – critical for the antioxidant superoxide dismutase to function effectively.
Recipe adapted from The British Columbia Seasonal Cookbook by Ogle, Pateman, and Darcy.