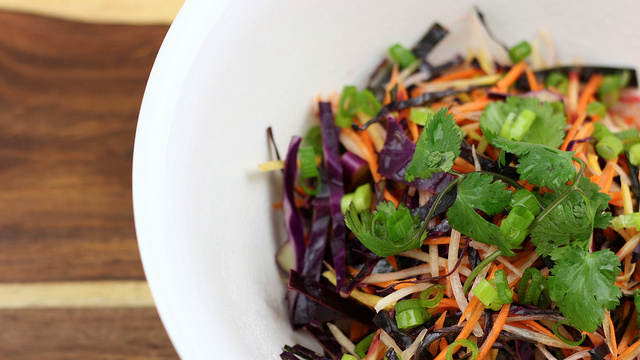 With its brightly coloured and crunchy veggies, this salad is great for stimulating digestion through our eyes, nose, and taste buds. A little bit of a crunchy raw salad such as this at the beginning of a meal can help turn on your digestive juices with the physical action of chewing as well. And it tastes pretty fantastic!  FInd out more about the digestive system on our blog posting From Plate to Potty.
Prep & Cook Time: 30 minutes
Ingredients
6

cups

cabbage, thinly sliced

3/4

cup

cabbage, thinly sliced

3/4

cup

raw beets, coarsely shredded

1/4

cup

red onions, finely chopped

1

large apple, shredded

6

tbsp

low fat mayonnaise

1/4

cup

plain yogurt

3

tbsp

apple cider vinegar

1 1/2

tbsp

honey

Salt and pepper

(to taste)
Instructions
In a large bowl, combine cabbage, carrots, beets, onions, and apple.

To prepare the dressing, in a small bowl whisk together mayonnaise, yogurt, vinegar, and honey.  Pour over vegetables and toss until well mixed.  Season with salt and pepper.
Notes
*Therapeutic Upgrade – to help stimulate appetite and saliva production, try adding cayenne pepper to the dressing, grate some fresh ginger in with the veggies, or top the salad with raw pumpkin seeds or diced avocado.
Recipe by Rosie Schwartz, The Enlightened Eater's Whole Food Guide.