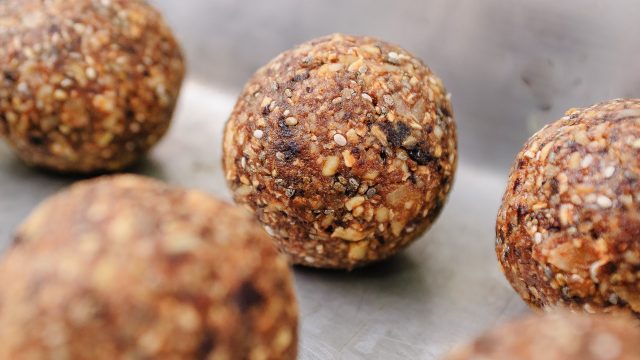 Prep time: 15 minutes    Fridge time: 1 hour     Makes: 30 bitesThese healthy snacks are quick and easy to prepare!Oats – This whole grain is a great source of complex carbs, fibre and phytonutrients. Oats can help support the digestive system, lower cholesterol and the risk of colorectal cancer and provide lasting energy by keeping blood sugar levels stable. The fibre can also help remove potential carcinogens and promote healthy gut bacteria.Carrots – Carrots are a great source of beta-carotene which our bodies convert into vitamin A. Vitamin A supports immune function, skin and mucus membranes, and eye health. Carrots contain many types of phytonutrients that are well studied for their antioxidant, anti-inflammatory and anti-cancer effectsAlmonds – Almonds are called the king of nuts because they are high in calcium, potassium, magnesium, phosphorus, folic acid, EFA's, and protein. Loaded with phytonutrients, they are called the anti-cancer nut.
Ingredients
1

cup

rolled oats

1/2

cup

coconut, shredded

1/2

cup

carrots, shredded

1/4

cup

almonds, chopped

1/4

cup

raisins, chopped

1/4

cup

flaxseed, ground

1/2

tsp

cinnamon

1/2

cup

 almond butter

1/4

cup

maple syrup

1/4

cup

melted coconut oil
Instructions
In a mixing bowl combine oats, coconut shreds, carrots, almonds, raisins, flaxseed, and cinnamon. Mix well.

Add almond butter and maple syrup and stir until evenly combined.

Place in refrigerator for at least one hour.

Shape into one-inch bites – smaller is better and easier to eat.

Store in an air-tight container in the freezer.
Notes
Recipe adapted from Rabbit Food for My Bunny Teeth