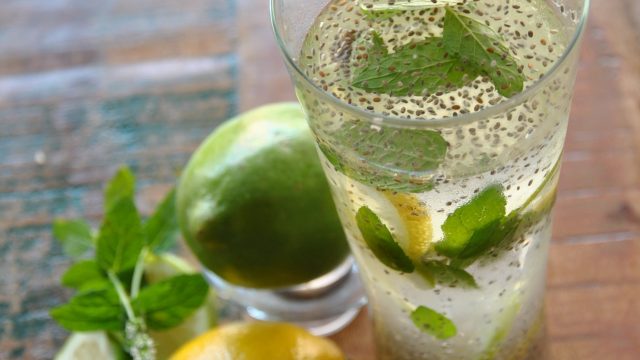 This fiesty Latin drink has many health benefits. Mixing chia seeds, freshly squeezed limes, and a bit of honey to taste provides a beverage high in vitamin C (for immune function), terpenes (for its anti-cancer properties), omega 3's (to decrease inflammation), fibre (for moving wastes through the colon), and mucilaginous goodness that can help gut healing.  This beverage is very beneficial after treatment that may have caused distress to the digestive tract like radiation or chemotherapy. Also great for helping keep blood sugar regulated.
Ingredients
10

oz

water

1

tbsp

chia seeds

1/2

lime

honey, agave, or maple syrup

(to taste)

1/4

cup

chia seeds

2

limes, juiced

4

cups

water

Honey

(to taste)
Instructions
Pour water in glass and stir in chia seeds. Let sit for 10 minutes until it becomes gelled.

Squeeze in juice of ¼ lime into glass; taste to see if you would like more lime. If you want to cut the tartness, add a small quantity (1/4 tsp to start) to taste. Stir and enjoy!
Next
In a glass pitcher, pour about 1 cup of the water and all the chia seeds; stir. Let sit for 10 minutes until chia becomes gelled. Squeeze lime juice into pitcher, add rest of water, stir well. Taste to determine if honey or more lime is required. Serves 4.
Notes
Chia Seeds – The Aztecs ate this seed to power them through battle, as they are high in protein, essential fatty acids, and fibre. An ounce contains 4 grams of protein, 5000mg of omega 3's, and 11 grams of fibre! Great soluble fibre source for slowing down glucose entering the blood stream and for binding to toxins for removal out the colon.
Limes – The phytochemicals in limes boost the immune system, prevent heart disease and cancer, lower blood cholesterol levels, and lower high blood pressure. They may dissolve gallstones and protect against scurvy, as they are high in vitamin C.
Image by IMG_WorldWide