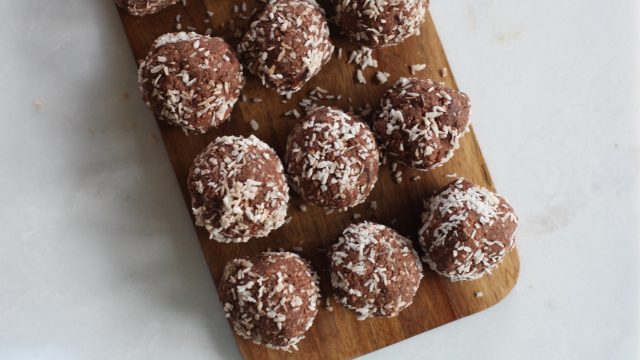 Try these rich and refreshing coconut clusters for the holidays or for an easy, anytime snack or dessert!
Coconut – Coconut has been part of a healthy tropical lifestyle for thousands of years.  The oils from the coconut are monounsaturates of the omega 7 family.  Contrary to popular belief, coconut oil actually helps raise good HDL cholesterol levels. Thailand, where coconut and its products are found in virtually every dish, has the one of the lowest cancer rates in the world.
Honey – This is a natural sweetener that contains vitamins, minerals, and propolis.  It is a great source of magnesium. A whole food, honey is an excellent replacement for brown or white cane sugar, which is detrimental to our health.  Any sweetener, though, should be eaten in moderation, but when you do need to sweeten, try honey instead.
Flax seeds – Flax seedsare a great laxative, and are high in essential fatty acids (EFA's) (when ground or chewed).  They are full of anti-cancer lignans and phytoestrogens. The oil found in flax seeds can aid in reducing cholesterol and slow the progression or rheumatoid arthritis and atherosclerosis.
Cacao– (beans, powders, nibs) are choked full of powerful flavonoid antioxidants that have been show to have a protective quality for our immune cells while supporting brain and heart functions. Although cacao beans are where all chocolate is derived from (including milk chocolate), the closer we can get to the source (raw, dark) the more nutritional value there will be.
Ingredients
3

cups

unsweetened coconut, shredded

1/2

cup

honey

4

tbsp

flaxseed meal

4

tbsp

pure coconut milk

1/4

cup

cacao powder

1/4

tsp

peppermint oil

Pinch of salt
Instructions
Preheat oven to 300oF and line two baking sheets with unbleached   parchment paper.

Mix all ingredients in a large bowl until well incorporate. Refrigerate for 30 minutes before forming and baking.

Place 1 Tbsp of coconut mixture on each sheet about 1-2" apart.

Bake for 25-30 minutes then remove from the oven and allow to completely cool