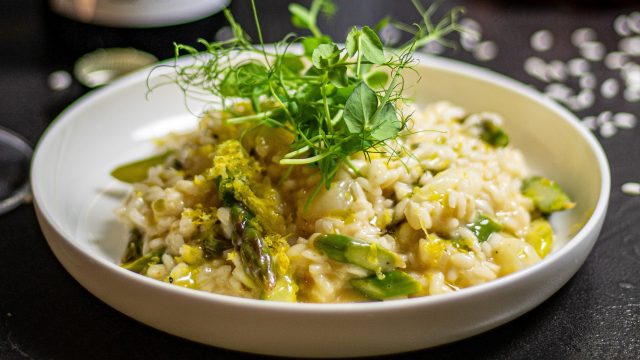 Prep & Cook Time: 40 minutes     A great spin on your usual risotto, this dish can make a tasty side or can be served with a salad as a main meal.Brown Rice – A gluten-free grain that is rich in complex carbohydrates, good quality proteins, and yet is low in fat and calories. Brown rice can help regulate bowel function, glucose metabolism, prevent bowel cancer and lower cholesterol.Ginger – This root is an excellent remedy for nausea, upset stomach, motion sickness or cramps.Coconut Oil – Contrary to popular belief, coconut oil actually helps raise good HDL cholesterol levels and is a monounsaturated fat. It is a very stable oil for cooking and baking.Garlic – Garlic is touted as a "cure-all" due to its many uses. It has a beneficial effect on heart disease, cancer and infectious diseases. It can help decrease cholesterol levels, detoxify the body and stimulate the immune system.Parsley/Cilantro – both of these herbs are detoxifying and can help pull toxins out of the body.
Servings:
4
serves as a side dish
Ingredients
1

cup

brown rice

1 1/2

cup

water

1/2

cup

coconut milk

1

tbsp

coconut oil

2

in. 

fresh ginger, grated

1

clove garlic, grated

Salt and pepper

(to taste)

1

cup

fresh parsley and/or cilantro, chopped
Optional Add-ins:
1

tsp

turmeric

1/2

onion, chopped

Fresh seasonal vegetables

Fresh squeezed lime juice
Instructions
On medium-high heat, add the virgin coconut oil to the pot. Add chopped onion and stir until translucent.

Add rice and stir until evenly coated with oil and onions.

Add water and let it come to a boil.

Cover with a lid and let simmer on medium-low heat for 30 minutes or until water is mostly absorbed.

Add coconut milk, ginger, garlic and any additional vegetables or seasonings.

Slowly stir while seasoning with unrefined salt and black pepper to taste.

When all of the liquid is absorbed, the rice should have a thick and creamy consistency.

Garnish with fresh chopped parsley or cilantro and serve right away.