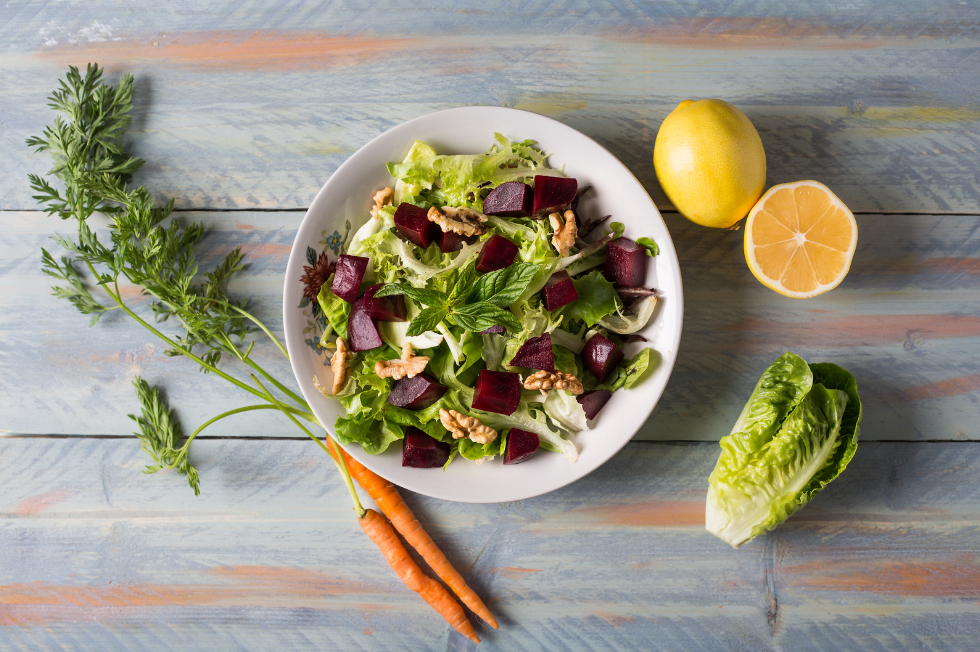 Ingredients
1/2

cup

walnuts

1

tbsp

olive or coconut oil

1

tbsp

honey or maple syrup

1

fresh beet, peeled and shredded

6

cups

mixed greens

1/2

ripe avocado, cubed

1/2

cup

dried cranberries

1/4

cup

fresh basil, chopped
Dressing
1/5

cup

balsamic vinegar

1/3

cup

olive oil

1

tbsp

honey or maple syrup

1/2

tsp

unrefined sea salt

1/4

tsp

red chili pepper flakes

(optional)
Instructions
To candy the walnuts, heat 1 tbsp oil in a skillet over medium heat. When warm, add the walnuts.

Once they have begun to brown, toss in honey. Brown but do not burn; 5 minutes. Take off heat. 

Then, prepare the other ingredients: peal and grate or shred the beet, cube the avocado, and chop the basil. 

To make dressing: mix 1 tablespoon of honey with the balsamic vinegar, then add the olive oil. 

Put the walnuts, beet, avocado, basil, and cranberries in a large bowl with the greens. Gently toss with around half the dressing; add more if needed to taste.
Notes
Nutritional Value of Select Ingredients
Cranberries – Great for the kidneys, bladder, and skin, these tart berries are full of vitamin C, fibre, calcium, iron, and other minerals; and phytonutrients like beta-carotene and quercetin. They are useful in treating of asthma, cystitis, and kidney and bladder stones.
Beets – The beetroot is an excellent source of folic acid, and a great source of fibre, manganese, and potassium. It is an excellent tonic for the liver, has anti-cancer properties, increase bowel function, and decrease cholesterol levels.
Walnuts – These nuts contain beneficial polyunsaturated fatty acids that are great for the brain and lowering cholesterol. They are also high in protein, fibre, minerals, and vitamins.
Basil – A member of the mint family, basil helps relieve digestive disorders, is an immune stimulant, a treatment for intestinal parasites, and may reduce the risk of lung cancer. It is helpful for the lungs, spleen, and large intestines.
Avocado – High in mono-unsaturated fatty acids, avocados contains 20% fats – all good ones. High in potassium, vitamin E, B vitamins, and fibre, avocados can help normalize cholesterol levels.