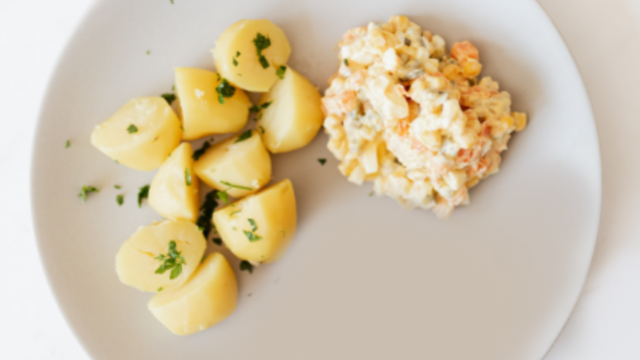 Prep & Cook Time: 40 minutes   A perfectly healthful addition to any picnic! For an extra nutrient boost, leave the skin on the potatoes so you may reap the phytonutrient benefits.Potatoes – When in their whole form, potatoes are a great source of potassium, B vitamins, vitamin C, and fibre. There is even protein along with the carbohydrates in potatoes. Most nutrients are found in the skin, so avoid peeling. We also lose the benefits when we eat them deep fried such as french fries or potato chips.Dill – This herb is a carminative – helping eliminate gas. It is also useful in supporting the liver in its detoxification duties, and has anticancer and antimicrobial effects.Lemon Juice – With its antibacterial properties and high levels of vitamin C, lemon juice is a great addition to any recipe. It is also great for balancing pH and detoxifying the body.Olive Oil – Cold pressed extra virgin olive oil is an excellent source of monounsaturated fatty acids, making this oil quite stable for low temperature cooking. It has a good variety of vitamins and minerals, and can help lower LDL cholesterol, control blood pressure, and aid in diabetes.
Servings:
4
as a side dish
Ingredients
Salad
2

lbs

 red potatoes

1

tbsp

coconut oil, melted
Dressing
1/4

cup

fresh dill, chopped

2

cloves garlic, minced

1/4

cup

lemon juice

1/4

cup

olive oil

2

tbsp

tahini

1

tbsp

Dijon Mustard

1/4

tsp

salt

1/4

tsp

ground pepper
Instructions
Wash and cut potatoes into small chunks with skin on.

Place in large bowl, drizzle with coconut oil and toss until potatoes are completely coated.

Spread potatoes onto baking sheet and roast for 30 – 45min or until tender. Let cool completely.

(Potatoes can be roasted the day before)

In large bowl, whisk together dressing ingredients, add completely cooled potatoes and mix well.

Store in refrigerator and serve cold.
Notes
Recipe adapted from Joyous Health Cookbook