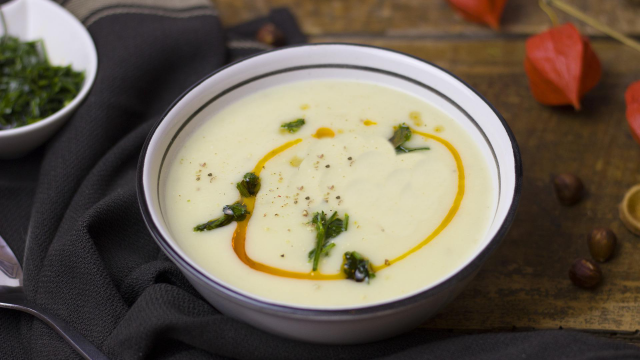 Ingredients
2

cups

sliced leeks, halved lengthwise, cut into 1/4 inch slices

(1 medium leek yields ~2 cups)

1

tbsp

olive oil

(or vegan butter, if oil-free, sub with twice as much water)

1/2

cup

finely chopped celery

1

tsp

sea salt

1/2

tsp

black pepper

3/4

tsp

dried thyme

(or 2 tsp fresh)

4

large cloves garlic, minced

4

cups

chopped potatoes, washed thoroughly, cut into 1/2-inch cubes 

(we prefer unpeeled Yukon gold, ½ lbs yield ~4 cups)

2 1/2

cups

water

(or sub up to half with vegetable broth and use less salt)

1

cup

canned light coconut milk

(or sub homemade cashew cream*)
Instructions
Remove the end and dark green part of the leek and discard (or reserve greens for making vegetable broth). Slice the white and light green part of the leek in half lengthwise and clean by running cold water over each half, getting in between the leaves to remove any dirt. Then slice into 1/4-inch slices.

Heat a large pot or Dutch oven over medium heat and add the olive oil, chopped leek, and celery. Cook for about 5 minutes, until everything is slightly softened and fragrant. Add salt, pepper, thyme, and garlic. Cook for another 1-2 minutes, stirring frequently.

Add in the potatoes, toss to evenly combine leek mixture with the potatoes, and sauté for 3-4 minutes, stirring frequently.

Add in the water and coconut milk and bring the soup to a boil. Once boiling, reduce to a low simmer and cover for 20-25 minutes, stirring every 10 minutes or so. After 25 minutes your potatoes should be fork tender but still somewhat intact.

Once your potatoes are cooked, use an immersion blender to purée 3/4 of the soup, leaving some small chunks of potato. You can also put half of the soup in a high-speed heat-proof blender, blend until smooth, and add it back to the rest of the soup. We like our soup a little rustic and brothy with pieces of potato, but you can also purée it until completely smooth if preferred.

Taste and adjust as needed, adding salt for overall flavor, black pepper for kick, or more thyme for complexity.

Serve in bowls (optionally) garnished with sliced green onions or chives, coconut bacon, and vegan sour cream. Store leftovers in a sealed container in the refrigerator for 3-4 days or in the freezer for 1 month. Reheat on the stovetop over low-medium heat until warm.