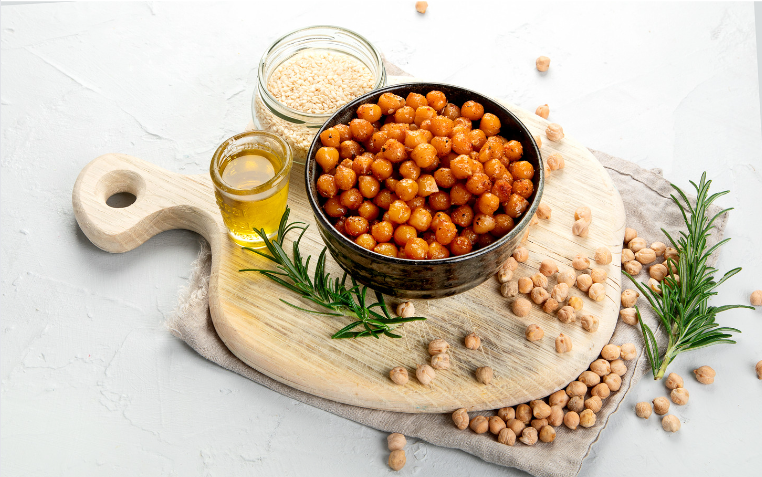 Ingredients
1

can

Chickpeas

Well drained and dried

1

tbsp

Avocado oil

Or other neutral oil

2

tsp

Maple syrup

1 1/2

tsp

Smoked paprika

1

tsp

Chili powder

3/4

tsp

Garlic powder

1/4

tsp

Salt

1/4

tsp

Black pepper

1/4

tsp

Cayenne pepper

Optional
Instructions
Preheat oven to 350 degrees F (176 C) and set out a bare (or parchment-lined) baking sheet (or more as needed).

Drain chickpeas well. If using oil, rinse well with water and thoroughly drain. If omitting oil, simply drain well and skip rinsing with water.

Once drained well, spread the chickpeas out on a clean, absorbent towel and use your hands to gently roll and dry the chickpeas. Some of the skins should start coming off. You can opt to peel all of the chickpeas — which can help for extra crispiness! — or simply remove the skins that come off. Either way, the chickpeas will crisp up. I just found that peeling them does yield slightly crispier chickpeas.

Transfer the chickpeas to a mixing bowl and top with oil. Mix well to combine. DO NOT ADD the other seasonings at this point — they can interrupt the crisping process, so wait to add until after baking

Bake for 45 minutes or until golden brown and dry/crispy to the touch. We like turning the pan around and shaking the chickpeas around the halfway point for even cooking. Note: Peeled chickpeas cook faster than unpeeled. If omitting oil, they will also cook faster.

Pour in your still-warm chickpeas and toss gently to evenly coat them with the seasoning mixture. Place them back on the cookie sheet to cool fully and so the seasoning can dry/set.
Notes
To store, place in a storage container or jar and DO NOT tightly cover. Instead, crack lid so they can "breathe" a bit. This helps them stay crispy longer. These are best the first day, but they will last for 4-5 days at room temperature. Alternatively, seal well and freeze up to 1 month.
Recipe by Minimalist Baker