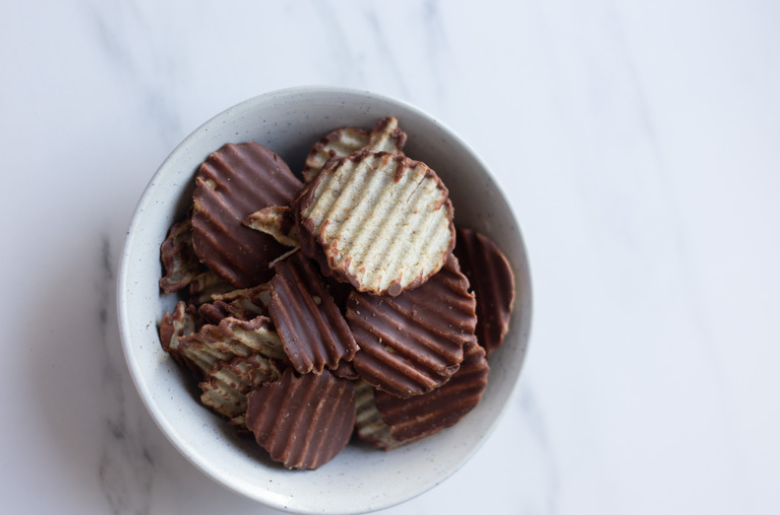 Ingredients
2

large

sweet potatoes

1

tbsp

extra virgin olive oil or coconut oil

1/2

tsp

salt

1/4

tsp

ground cinnamon

3/4

cup

chopped dairy-free dark chocolate (at least 70% cacao)
Instructions
Preheat oven to 375 degrees F (176 C).

Wash and scrub your sweet potatoes clean, removing any areas that are bruised. Thinly slice your sweet potatoes. You don't necessarily want your chips paper thin, but rather closer to the width of a quarter or slightly more. If they're too thick they take longer to crisp up in the oven.

In a large bowl or on a slightly greased baking sheet, toss your sweet potatoes in oil and then add in sea salt and ground cinnamon. Toss to coat.

Arrange your sweet potatoes in a single layer on multiple baking sheets and cook for 30-45 minutes, flipping once or twice to ensure even cooking. Cooking time will depend on the thickness of your chips and how evenly your oven cooks.

Twenty five minutes into your cooking time, melt your chocolate over a double boiler or in 20-30 second increments in the microwave. Turn heat to low to keep warm until chips are ready, or re-microwave if it hardens.

Once your chips are crisp, remove from oven and immediately dip into chocolate. Set on a parchment-lined surface or a cooled baking sheet to cool.

These are best eaten fresh. To store, let cool completely and then place in a bag or container slightly sealed. Putting them in the fridge will cause them to get soggy.