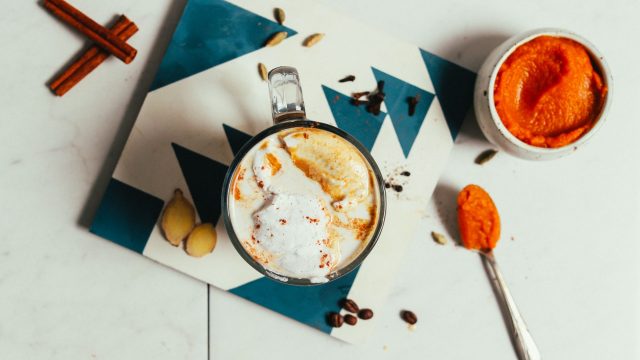 A healthier, delicious homemade take on pumpkin spice latte made in 1 pot with simple ingredients and ready in 10 minutes!
Gluten-Free, vegan, not freezer-friendly, keeps 2-3 days
Ingredients
3/4

cup

milk of choice

1/4

cup

water

2 - 3

tbsp

pumpkin purée

(not pumpkin pie mix)

1/2

tsp

ground cinnamon

1/4

tsp

ground ginger

1

healthy pinch ground nutmeg*

1

healthy pinch ground allspice*

1

healthy pinch ground clove*

1

healthy pinch ground cardamom (optional)*

1/8

tsp

ground pepper

1.5 - 2

tsp

maple syrup, more or less to taste

(or sub stevia to taste)

1

shot

espresso

(or sub 1/4 cup strong brewed coffee, or 1 ½ -2 tsp caffeine-free option or coffee alternative)

1/2

tsp

vanilla extract

*Optional: You may use pumpkin pie spice instead of separate spices. If you're using pumpkin pie spice, start with 1/2 tsp of the mixture and work your way up as spice blends / intensities may vary.
FOR SERVING (optional):
Coconut whipped cream

Pumpkin pie spice
Instructions
If adding coffee or espresso, prepare at this time and set aside.
HOT VERSION
To a small saucepan, add dairy-free milk and water. Bring to a simmer, then add pumpkin purée, spices (cinnamon, ginger, nutmeg, allspice, clove) or pumpkin pie spice, cardamom (optional),  black pepper, and maple syrup. Whisk until smooth. Note: A little separation is natural with both the pumpkin and dairy-free milk, so whisk/stir as needed to smooth.

Add coffee, espresso, or dandy blend and vanilla and whisk until smooth.

Taste and adjust flavour as needed, adding more spices to taste, espresso coffee or coffee alternative for stronger coffee flavour, or maple syrup for sweetness.
ICED VERSION
Add all ingredients to a jar with a lid and stir to combine. Then add ice, secure lid, and shake vigorously to combine — about 30 seconds.
FOR SERVING
Serve as is, or top with coconut whipped cream and a pinch of pumpkin pie spice, cinnamon, or nutmeg.

Store cooled leftovers in the refrigerator up to 1 week. Because of the pumpkin purée and dairy-free milk, separation is natural. Simply stir before serving or whisk when reheating on the stovetop.