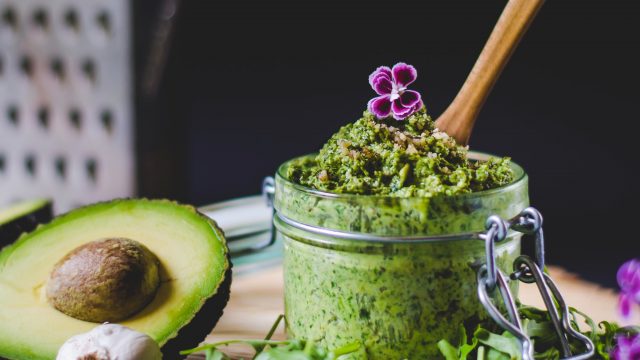 A delicious and healthful dip or spread for veggies or crackers.
Edamame – Edamame are green immature soybeans and have been eaten in China and Japan for centuries. They are a great source of easily digested protein, high in fibre and contain important minerals like magnesium, folate, phosphorus, copper and thiamin.
Avocado – High in mono-unsaturated fatty acids, it contains 20% fats – all good ones.  High in potassium, vitamin E, B vitamins, and fibre, avocados can help normalize cholesterol levels.
Garlic – Garlic is touted as a "cure-all" due to its many uses in medicine.  It has a beneficial effect on heart disease, cancer, and infectious diseases.  It decreases cholesterol levels, detoxifies the body, stimulates the immune system, and the list goes on and on.  Eat garlic raw and regularly for maximum benefits.
Ginger – This root is an excellent remedy for nausea, morning sickness, upset stomach, indigestion, vomiting, motion sickness, and cramps.  It helps to lower blood pressure, reduce fever and prevent internal blood clots. Very medicinal, yet tasty!
Limes – The phytochemicals in limes boost the immune system, prevent heart disease and cancer, lower blood cholesterol levels, and lower high blood pressure.  They may dissolve gallstones and protect against scurvy, as they are high in vitamin C.
Mint – This herb helps to relieve spasms of the gastrointestinal tract and gas.  It also contains compounds that inhibit the growth or formation of cancer, and block the formation of allergies.
Ingredients
1

cup

shelled edamame

2

avocados, pitted

1

tsp

fresh ginger, grated

1/2

tsp

garlic, minced

1/4

cup

water

3

tbsp

fresh lime juice

1

tbsp

olive oil

1/4

tsp

salt

1

tbsp

fresh mint, chopped

1/4

tsp

wasabi powder

(optional)
Instructions
Combine all ingredients into a food processor or high powered blender and mix until smooth.

Adjust lime juice or salt if needed.