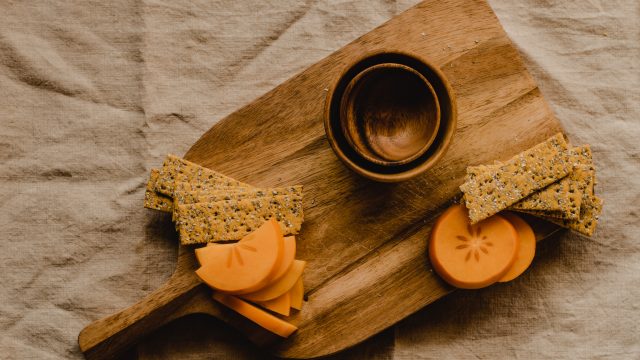 Make your own delicious and healthier crackers using whole grains and seeds. These crispy crackers are perfect for dipping. The thinner you roll them, the crisper they are.
Ingredients
1/4

cup

flax or sesame seeds

1/4

cup

ground flax seeds

1 1/2

cup

whole spelt or kamut flour

1/2

tsp

baking powder

1/2

tsp

salt

4

tsp

butter, softened

1/2

cup

milk of choice

Salt and pepper

(to taste)
Instructions
In a bowl of a stand up mixer, add flax seed, ground flax, flour, baking powder, salt, and butter. With the paddle attachment, mix on low speed until the mixture resembles a coarse meal. Stir in rice milk and mix until mixture forms soft dough. (You can also mix the dough by hand.) Wrap dough in plastic wrap and chill 10-20 minutes.

Divide the dough into quarters. Turn out dough onto a lightly floured board. Roll out very thin to a rectangle 2 mm (1/16 inch) thick. Sprinkle with sea salt and roll once more. Cut into 6 cm (2 1/2 inches) squares. Transfer to an ungreased baking sheet. Repeat with the remainder of the dough.

Preheat over to 325oF. Bake 15-20 minutes until crisp and golden.
Notes
Variations
Onion Crackers – use 1 tbsp. organic onion soup mix instead of salt.
Cheese Crackers – use 1 cup grated cheddar or goats cheese. Great for kids; use a cookie cutter to make animal shapes.
Italian Crackers – use 1 tbsp. oregano and 1 cup grated mozzarella cheese.
Honey Snaps – drizzle with honey before baking (skip the sprinkling of sea salt).
Photo by Bohdan Stocek