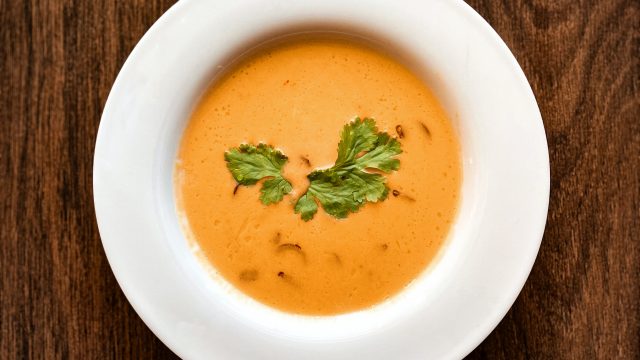 Many of the fresh and vital ingredients in this recipe (organic ginger, onion, carrots, parsley) contain nutrients that will provide your body with building blocks to help strengthen immunity, detoxify the liver and stave off nutrient deficiency as well as other conditions that can promote cancer growth. Food is medicine, so treat it accordingly and source the best quality that you can within your budget. Don't be led to believe that it is necessarily expensive to eat well. In fact, it can be very affordable to eat healthfully if you, for example, avoid packaged foods, skip the exotic foods, and buy dried goods in bulk.
Ingredients
1

quart

Low Sodium Vegetable Broth

1

Onion

1

lb

Carrots

Chopped

1

tbsp

Butter

1

tbsp

Olive oil

1

chunk

Fresh Ginger

Crushed

1

sprig

Parsley

Salt

To taste

1

cup

Apples

Peeled and cubed
Instructions
Sautee the onion in butter and olive oil, in a saucepan, untiltransparent.

Add in the ginger and chopped carrots, coveruntil carrots are soft.

Meanwhile, simmer chicken or vegetable stockin large pot, covered.

Once the carrots are softened, add allsaucepan ingredients into food processor and puree.

Add to stock, salt to taste, and simmer for ½hour to meld flavours.

Add apple cubes approx. 15 minutes beforeserving to soften them.

Serve with a sprinkling of fresh choppedparsley.