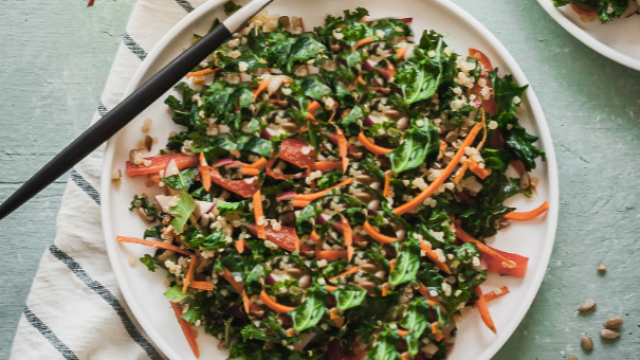 This beautiful complete meal-in-a bowl salad is vibrant, nutritious and delicious. Packed full of different textures and colours from liver-supporting beets, carrots and crunchy heart-healthy nuts, this will become a family favourite. And there will be lots of yummy left over dressing to use over steamed veggies, noodles, grains or other salads.Brown Rice – This gluten-free grain is rich in complex carbohydrates, good quality proteins, and yet is low in fat and calories.  Brown rice can help to regulate bowel function, glucose metabolism, prevent bowel cancer, and lower cholesterol.Spinach – This green is high in antioxidants, reduces the risk of cancer, is high in magnesium (for mood) and iron, is great for the eyes, etc. etc, etc.  A nutritional bonanza.  Eating spinach with a source of vitamin C (strawberries, grapefruit, tomatoes) helps absorb the calcium and iron found within.Nutritional Yeast – Nutritional yeast, not to be confused with baker's yeast, is used as a seasoning or a condiment. It has a unique cheesy, rich, umami flavor and is often used by vegans and vegetarians as many varieties are fortified with B12. A great source of B vitamins, fibre and protein. Add to dressings, sauces, scrambles, kale chips, or sprinkle over vegetables, baked potatoes or popcorn.
Ingredients
8

cups

cooked brown rice

2

cups

grated carrots

2

cups

grated beets

2

cups

packed baby spinach leaves

2

cups

slivered almonds, toasted
Dressing:
1/2

cup

nutritional yeast flakes

1/3

cup

Tamari

1/3

cup

apple cider vinegar

1/3

cup

water

2

tbsp

tahini

2

cloves

garlic, crushed

3/4

cup

olive oil
Instructions
Make the dressing first by pureeing all dressing ingredients (except oil) in a blender.

With motor running, add oil in a slow steady stream. Blend until smooth.(Can be made ahead: Cover and refrigerate for up to 1 week.)
Salad:
Divide rice among 8 bowls; drizzle each with 1 Tbsp of the dressing.

Top each with carrots, beets, spinach and almonds. Drizzle with 3 Tbsp more of the dressing.
Notes
Inspired by Whitewater Cooks