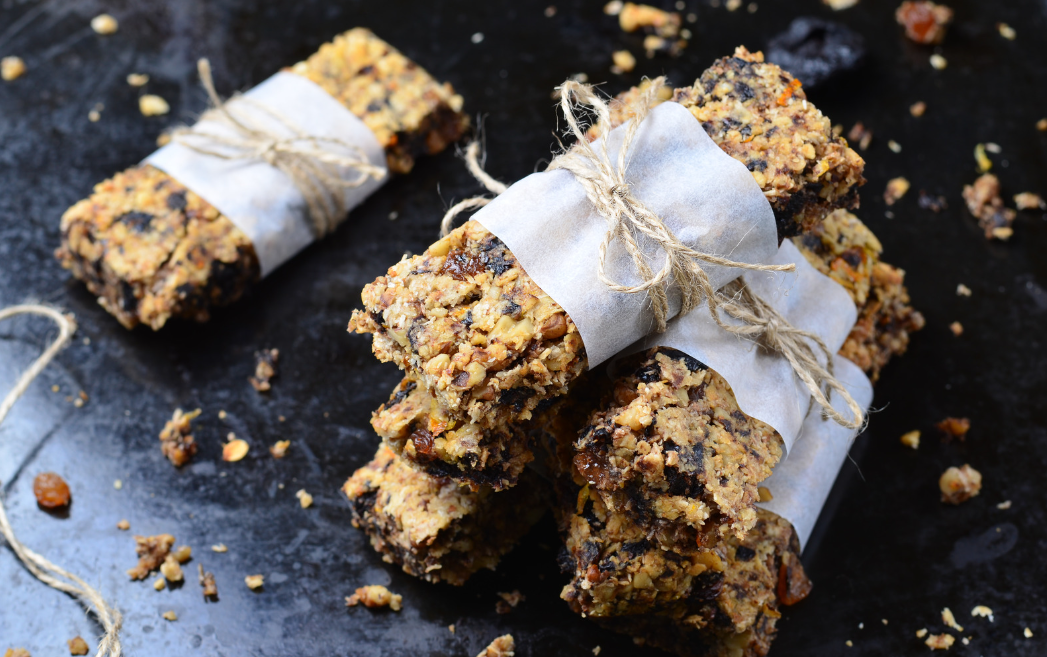 Ingredients
2

cups

raw, regular rolled oats

2

cups

favourite flaked whole-grain cereal

3

cups

dried fruit

(eg. apricots, pineapple, cherries, cranberries, blueberries, mangos etc)

2

cups

raisins

1/2

cup

sesame seeds

1/2

cup

chopped almonds

1/2

cup

sunflower seeds

1/2

cup

pumpkin seeds

1/4

cup

hemp hearts

1/4

cup

flax seeds

2

tbsp

olive oil

1 1/4

cup

honey

1

cup

smooth nut or seed butter

2

tsp

cinnamon
Instructions
The trick to this recipe is to mix your dry ingredients in a really big bowl so you can spread the dry contents out to pour the hot liquid over and cover as much of the dry stuff as possible. The syrup mixture hardens quickly so work fast to mix it all up for an evenly moist bar. Don't use your hands…the syrup is hot!
Notes
Optional
Lightly toast oats and cereal by spreading them out on a cookie sheet and bake at 350ºF for about 8 mins. This gives the bars a bit of a toasty taste. Try a batch each way and decide your preference.
• Spray a 9X13 pan lightly with oil
• Mix rolled oats and cereal flakes together in a large bowl
• Add other dry ingredients separating the dried fruit pieces. Mix all completely.
• In saucepan over medium temp heat oil
• Add honey to oil and stir constantly until mixture is bubbling.
• Stir in Peanut Butter and Cinnamon and mix well.
• Pour hot syrup mixture over dry ingredients and mix well to ensure bars will be evenly moist – work quickly.
• Transfer into the 9X13 pan and pat down firmly (hint – spray back of large clean spoon and use it to pat down mixture. This will stop ingredients from sticking to the spoon and lifting.)
• Refrigerate for at least 4 hours.
• Cut into bars and wrap in plastic wrap
• Store in freezer if you wish.