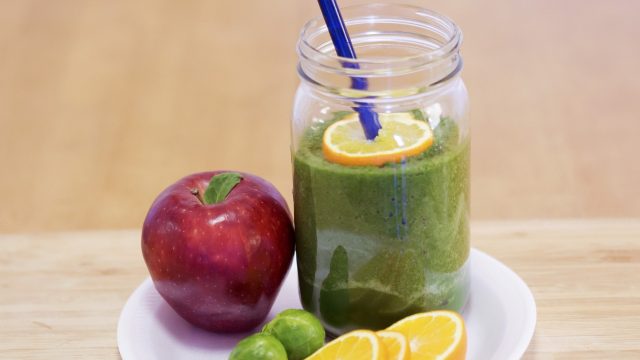 Bananas – Bananas are good for the nerves, muscles, liver, and kidneys, and feed good bacteria in the colon. They can aid in sleep, lessening pain, and enhancing immune function. With the exception of avocados and dates, bananas are the fruit with the highest concentration of potassium.Flaxseeds – Flaxseeds are a great laxative and are high in essential fatty acids (EFA's) (when ground or chewed). They are full of anti-cancer lignans and phytoestrogens. The oil found in flax seeds can aid in reducing cholesterol and slow the progression or rheumatoid arthritis and atherosclerosis.Spinach – High in antioxidants, spinach may reduce the risk of cancer. Spinach is a nutritional powerhouse and is a good source of magnesium, calcium and iron. Eating spinach with a source of vitamin C (oranges, strawberries, peppers) helps the body to absorb the iron and calcium more efficiently.
Ingredients
3

peeled oranges, sliced

1

banana, sliced

2

cups

spinach

1

cup

milk of choice

2

tbsp

flaxseeds, ground

1

tsp

vanilla
Instructions
Blend all ingredients in a blender until very smooth.
Notes
Variations:
Try different chopped greens such as Swiss chard, lettuce, spinach, parsley, mint, bok choy, cilantro, cucumber, celery or kale (remove the leaves from the stems).
For extra protein: substitute some of the liquid for organic, full fat, unsweetened yogurt or kefir. Add nuts or seeds, nut or seed butters; nut or grain milks, pre-soaked/sprouted or dehydrated peas/beans; quality organic soy milk or tofu, soaked grains or leftover cooked grains such as oats, quinoa and barley.
Spices such as cinnamon, nutmeg, cardamom, and ginger, and flavourings such as vanilla, maple, almond and peppermint extracts can add sweet complexities to the flavour.
Recipe adapted from lulora.com
Image by ImagesBG