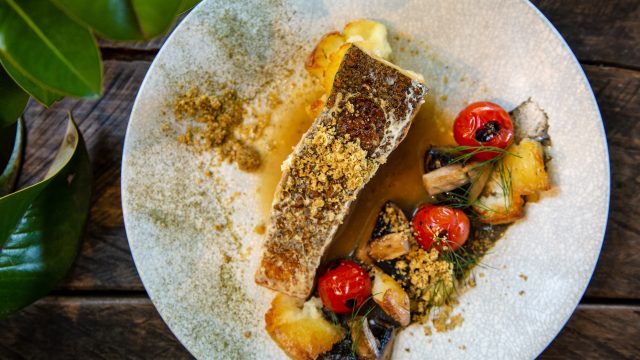 Ingredients
4

fillets

salmon

1/4

cup

pumpkin seeds, coarsely ground

1/4

tsp

salt

1/4

tsp

ground pepper

1/4

tsp

paprika

1/4

tsp

cumin

1/4

tsp

turmeric

1

tbsp

Dijon mustard
Instructions
Pre-heat the grill or bbq to medium high; oil grill with olive oil. Mix ground pumpkin seeds and spices together in a small bowl, and pour onto a plate for dipping. Spread mustard thinly on top of salmon fillet, then dip salmon into the seed mixture. Pat extra seeds into mustard to ensure evenly crusted. Place fish on grill, close lid if BBQing, and cook for 12 to 15 minutes or until fish just flakes – avoid overcooking.
Notes
Nutritional Value of Select Ingredients
Salmon – This cold-water fish is high in omega 3 fatty acids, shown to be very beneficial in protecting against heart disease, Alzheimer's disease, cancers (breast, prostate, colon, and lung), asthma, depression, diabetes, macular degeneration, multiple sclerosis, and rheumatoid arthritis. Choose wild over farmed for the highest benefit.
Pumpkin Seeds – These mighty seeds actually contain more iron than liver by weight, and are an excellent source of essential fatty acids (EFA's), protein, calcium, and phosphorus. They are commonly used to alleviate prostate problems, as they are high in zinc. They are also antiparasitic and used to combat intestinal worms.
Turmeric – This bright yellow member of the ginger family has a long list of health benefits. It is beneficial for those with flatulence, jaundice, menstrual difficulties, bruises, chest pain, colic, and rheumatoid arthritis. It is a powerful anti-inflammatory, antioxidant, and anti-cancer spice. Add it to soups, salad dressing, stir-fries, and pastas – it has a strong colour but not a strong taste.
Sea Salt – When you do use salt, sea salt provides a wide range of minerals including potassium and iodine, not just sodium. It is produced by the evaporation of seawater, so contains all the natural minerals of the sea. Use in moderation.