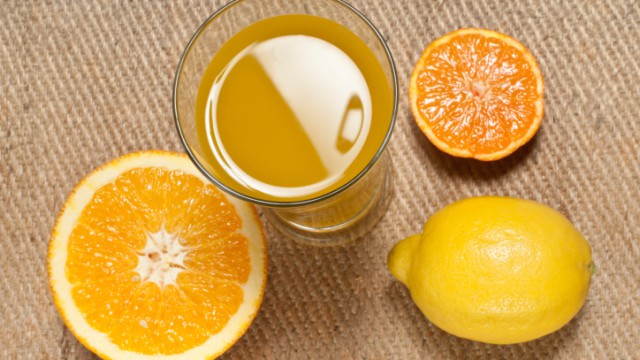 Water is great to hydrate the body, but if you are in need of additional hydration because of a bout with diarrhea, time spent in a hot climate, or a heavy-duty exercise session, try some of the following hydrating drink ideas.
The carbohydrates in these recipes supply energy and the electrolytes make up for those lost in sweat and loose bowel movements. Commercial sports drinks supply carbs and electrolytes but are mainly comprised of added sugars so we encourage making your own.
Instructions
Dilute a 100% fruit juice like apple, orange, or grape with filtered water to provide energy and replace lost potassium. The fructose from fruits is a great type of sugar to replace used-up muscle glycogen stores after exercise or exertion. Add 1 tsp of salt per 1 quart of diluted juice to replace lost sodium, and you've got your own energy and electrolyte drink!

Put ½ water and ½ orange juice in a water bottle; add 1 tbsp of maple syrup or honey and a pinch of sea salt. Shake vigorously; served chilled.

In a blender combine: juice of ½ a lemon, juice of ¼ a lime, 3 dates (fresh or rehydrated), 2 cups water, 1 tbsp honey or maple syrup, 1 tsp coconut oil, and salt to taste. Combine until smooth. Keep refrigerated for 2 weeks, re-blend or shake before drinking. Makes 3 cups. (The Thrive Diet, 2007)

Take 1 litre of water and add 1/3 cup maple syrup or honey, 1 freshly squeezed lemon or lime, and a pinch of salt.

Coconut water is an excellent electrolyte replacement and keeps the body properly hydrated.
Notes
Above all else try to avoid the refined sugars, artificial sweeteners, colours, flavours, additives, and preservatives found in commercial electrolyte and energy drinks. The greatest benefit of making your own hydrating drinks is that you'll avoid all of those unwanted ingredients and you'll also save money by making your own from ingredients you probably already have at home.