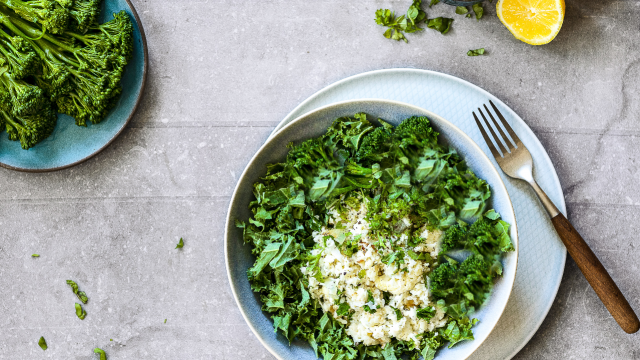 Kale, as a member of the cruciferous family, is an excellent anti-cancer vegetable.  It contains powerful  phytochemicals and high amounts of vitamin C. Ounce for ounce, it contains more calcium than milk, and is more easily absorbed and more bioavailable. Bathed in a garlicky miso dressing, this salad is one of our favourites!
Ingredients
1/4

cup

tahini

1/4

cup

water

1/2

lemon, juice + zest

1

tbsp

miso paste

1 - 2

cloves

garlic, minced

2

tsp

Dijon mustard

1 - 2

bunches

of kale, stemmed and chopped

1 1/2

cups

navy beans, cooked

1/2

red onion, thinly sliced

1/4

cup

oil packed sundried tomatoes*, chopped

Salt and pepper

(to taste)

*look for sulfite-free
Instructions
Stir together tahini, water, lemon juice, zest, miso paste, mustard, unrefined salt, and fresh pepper in a small bowl. Use a fork to blend until smooth.

Add additional water, 1 tablespoon at a time to thin if necessary. Season with additional unrefined salt. The dressing should be slightly salty and the saltiness will subside somewhat when tossed with  the salad. Set aside.

In a large bowl, add a splash of water, a teaspoon or so of salt, and 'massage' the kale until tender. This should take a couple of minutes. Rinse well and dry in salad spinner.

Place the kale, beans, red onion and sundried tomatoes into a large salad bowl. Pour on the dressing and toss gently.