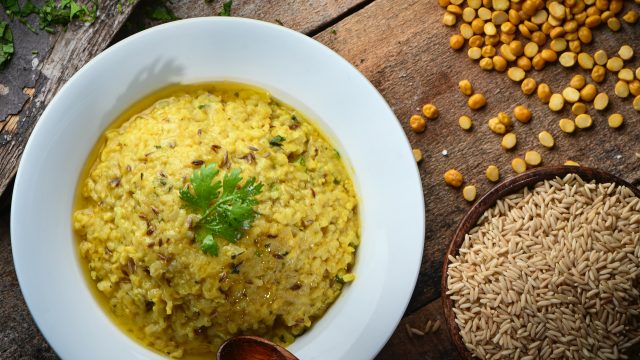 Kitcheree (sometimes spelled Kitchadee or Kitchari) is a traditional Indian dish made from split mung beans, basmati rice and digestive spices. In Ayurvedic medicine Kitcheree is known as a cleansing, detoxifying and nourishing food. To support healing and good health, it is important that we are digesting, assimilating and eliminating our food properly and eating kitcheree is a great way to support the digestive system in doing this.
Split yellow mung beans, one of the easiest beans to digest, are high in complex carbohydrates and protein thus providing energy and satiety. Basmati rice is very easy to digest and the spices not only support and encourage proper digestion but add vitamins, minerals and nutrients. The ghee or coconut oil helps to lubricate the system and further aids in digestion.
Kitcheree can be used as a mono cleanse by eating only kitcheree for 1-2 days. This can give your digestive system a rest and at the same time provide easily assimilated nutrients.
This fantastic nutritious meal is quick and easy to prepare and can be eaten by the very young, the very old, the sick, the healthy and everyone in between. This particular recipe is quite light on the spices to make it gentle on the palate and digestive system but you can bump up the nutrient and flavour content by adding more spices and veggies!
Ingredients
3

tbsp

ghee (clarified butter) or coconut oil

2

tsp

mustard seeds

2

tsp

cumin seeds

2

tbsp

fresh ginger, chopped or grated

1

tsp

turmeric

1

cup

white basmati rice

(*soaked overnight and rinsed well)

1

cup

split yellow mung beans

(*soaked overnight and rinsed well)

6

cups

water

1

tsp

salt

2

cups

seasonal veggies

(optional)

1/4

cup

fresh cilantro, chopped
Optional spices & veggies
Garlic and onions

Curry powder, cayenne, garam masala, cinnamon, asafoetida , coriander powder, fennel seeds, fenugreek seeds
Instructions
Melt the ghee or coconut oil over medium low heat in a large soup pot.

Add the spices and sauté until the seeds start to pop.

Add the rice and beans and stir for 1-2 minutes.

Stir in the water, bring to a boil, turn down the heat and simmer gently for 15 minutes.

Add the vegetables and salt and mix well. Add more water if necessary (depending on how many veggies you added).

Cover and let simmer until vegetables are cooked (15-20 minutes depending on veggies and size). The finished consistency should be rich, thick, and soupy.

Serve warm with chopped cilantro.
Notes
*soaking grains and beans will make them more digestible but you can still make this without soaking
Photo by Mario Raj