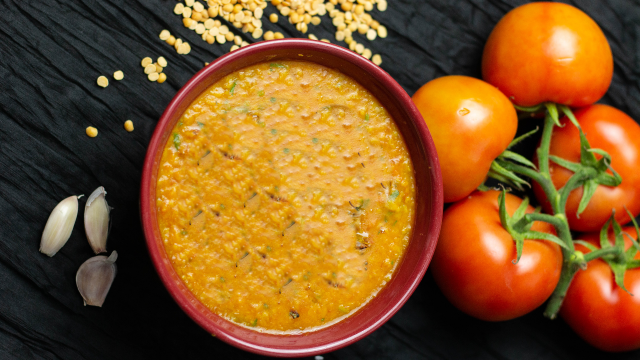 Ingredients
1/4

cup

olive oil

3/4

cup

celery, chopped

3/4

cup

onion, chopped

1

cup

carrot, chopped

2

cloves

garlic, minced

4

cups

vegetable stock

3

cups

water

3/4

cup

lentils, rinsed

3/4

cup

barley, rinsed

1

tsp

dried oregano

1

tsp

dried rosemary

1/2

tsp

fresh ground pepper

1/2

tsp

chili flakes

1

jar

diced tomatoes (28 oz)
Instructions
In a large stock pot, heat oil over medium heat. Add celery, onion, carrot and garlic; stir occasionally for 5 minutes. Add stock, water, lentils, barley, and herbs. Cover and bring to a boil; reduce to simmer and cook for 45 minutes. Add can of tomatoes and simmer for another 15 minutes, stirring occasionally. 
Notes
Nutritional Value of Select Ingredients
Barley – This grain stimulates the liver and lymphatic systems, helping them to get rid of wastes. It aids in cholesterol control, bowel regularity, and is high in potassium.
Lentils – These legumes are a great and inexpensive source of protein. They are high in both soluble and insoluble fibre, which helps regulate the bowels, reduce blood cholesterol levels, and stabilize blood sugar. They also contain sufficient iron and potassium.
Onions – Because they are high in sulfur, onions help lower cholesterol, inhibit cancerous tumor growth, help manage diabetes, and are an anti-inflammatory, antibacterial, and antifungal food that are also a blood tonic. Eat them daily – raw or cooked.
Celery – Eating 2 to 4 stalks of celery a day can lower blood pressure, especially if due to stress. It helps protect against cancer, is a mild diuretic, aids in weight loss and digestion, is a detoxifier, and can stimulate the sex drive. It is high in vitamins, minerals, and phytonutrients.
Carrots – Carrots are one of the best sources of beta carotene, which balances the immune system and reduces the risk of many cancers. They also guard against cardiovascular disease, reduce inflammation, slow the aging process, and are great for digestion disorders. Contain fibre, calcium, iron, and many other vitamins and minerals.
Tomatoes – A low calorie food packed with nutrition, tomatoes are high in vitamin C, carotenes including lycopene, and fibre. Lycopene has been shown to protect against many cancers, especially prostate.
Adapted from 'The New Good Life' by John Robbins, 2010