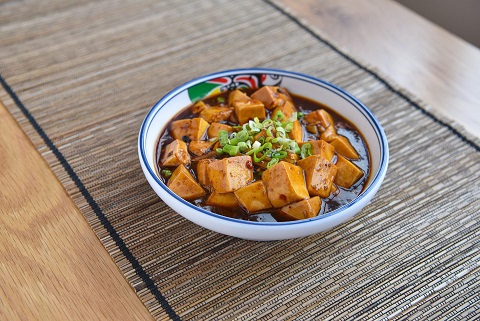 Ingredients
Tofu
400

g

Firm tofu

3-4

Green onions

Coarsely chopped, optional

Vegetable oil

For frying
Marinade
1/3

cup

Soy sauce

1/4

cup

Shaoxing wine

Or dry Sherry

2

tbsp

Sugar

3

tbsp

Chili paste

Or hot sauce

1

tbsp

Hoisin sauce

1

tsp

Lemon juice

4

cloves

Garlic

Grated

1

inch

Ginger

Grated
Coating
1/2

cup

Cornstarch

1/2

tsp

Salt

1/2

tsp

Cumin
Instructions
Marinade
Prepare a container that's slightly bigger than the block oftofu. Combine all the sauce ingredients in the container. Stir to mix well.Transfer 2 to 3 tablespoons of the marinade into a separate small bowl to useas a dipping sauce later.

Cut the tofu in half lengthwise, then into half-inch-thicksquares. Transfer the pieces into the container by making them "stand", so ithelps the marinade to disperse evenly (see the blog post above to see how toarrange the tofu). Use your hand to gently separate the tofu slices, so all thesurfaces will be in touch with the marinade. If the marinade cannot cover allthe tofu, use some green onion (or white onion) to fill up the empty space inthe container, so the marinade covers most of the tofu.

Cover to seal the container. Gently shake it. Marinate overnightin the fridge or at room temperature for at least 4 hours.
Cook
When you're ready to cook, remove the tofu from the marinade andlay it on a few layers of paper towels to drain the extra liquid.

Combine the coating ingredients in a plate. Stir to mix well.

Prepare a big plate with a few layers of paper towels, for thecooked tofu.

Heat a thin layer of oil in a nonstick (or carbon steel) panover medium-high heat until hot.

You might need to cook the tofu in batches depending on your pansize. While heating up the pan, coat each piece of tofu with the coatingmixture and place it on a plate. You should only coat the pieces you're goingto fry immediately.

Carefully add the coated tofu pieces into the pan. Cook withoutmoving until the bottom is browned, 2 minutes or so. Flip to cook the otherside until browned, another 2 minutes. Turn the heat down to medium if the pangets too hot and the oil starts to smoke. Repeat the process until you've friedall the tofu pieces.

Transfer the fried tofu onto the paper towel lined plate todrain the excess oil.

Serve the fried tofu with the reserved dipping sauce on the sideand garnish it with chopped green onion. Enjoy!