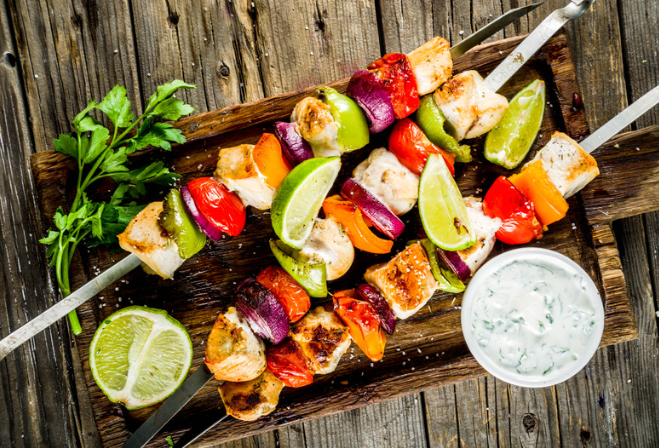 Ingredients
1

14 oz package

extra firm tofu

1

tsp

coconut sugar

1

tsp

dried oregano

3/4

tsp

salt

1/2

tsp

paprika

1/2

tsp

garlic powder

1/2

tsp

onion powder

1/2

tsp

cumin

1/2

tsp

turmeric

1/4

tsp

coriander

1/4

tsp

cinnamon

1/4

tsp

cayenne 

1/3

cup

olive oil

2

tbsp

freshly squeezed lemon juice

1

tbsp

tomato paste
Instructions
Drain excess water from tofu. Pat dry and wrap in a clean towel or paper towel. Set something heavy on top, like a cookbook, and let sit for at least 30 minutes-1 hour. 

Whisk together all remaining ingredients until the spices are well incorporated into a paste. 

Transfer tofu to skewers and brush with marinade. Let sit for 15 minutes, then grill for 3-5 minutes on each side, until slightly charred. Optional: brush with more marinade while they're grilling, or reserve some for serving.

Serve atop hummus with pita and a salad. Use any leftover marinade as a sauce. Enjoy!