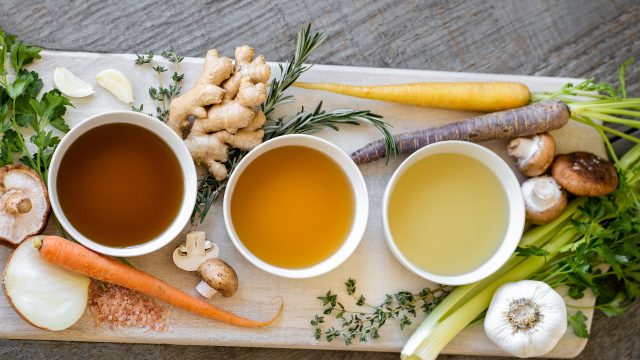 Miso soup is known traditionally in Japanese culture to promote long life and good health. Use it to add a sweet, earthy, savoury flavour (and probiotics) to delicious soups, dressings, marinades, dips and sauces.Kombu –  Kombu, is a nutrient-dense seaweed that can enhance the flavours of soups and stocks while providing a host of minerals such as calcium, iron and iodine.Miso – This fermented soybean paste has a sweet, salty flavour. Miso provides beneficial bacteria that help support our healthy gut bacteria. Due to soy's estrogen-like compounds, it was thought that it may raise the risk of hormone-related cancers. Evidence shows this is not true.Ginger – Ginger is an excellent remedy for nausea, morning sickness, upset stomach, indigestion, vomiting, motion sickness, and cramps.  Very medicinal, yet tasty!Mushrooms – Mushrooms have been used for thousands of years for their culinary and medicinal properties and continue to be studied for their anti-cancer compounds. Highly nutritious, they are a good source of B vitamins, potassium and selenium.
Ingredients
Simple Dashi Stock
4 - 6

inch strip of dried kombu

4 1/2

cups

water

4

fresh or re-hydrated shiitake mushrooms, thinly sliced

1

tbsp

ginger, grated

3

tbsp

miso

(dark, white or red)

2

green onions, thinly sliced
Additional options
8

oz

of cubed tofu

Chopped greens

Thinly sliced carrots
Instructions
Make the dashi stock by combining the water and kombu in a pot. On medium low heat, very slowly bring the dashi to a boil (will take 15-20 minutes). Just before the dashi starts to boil, remove the kombu.

Add the shiitake mushrooms and ginger (and any additional options). Simmer for a few minutes.

Remove a ¼ cup of the stock from the pot, place in a small bowl and add the miso. Using a fork, dissolve the miso and then add back to the soup.

Gently simmer for one minute. Do not bring to a boil, as this will damage the beneficial properties in the miso.

Serve garnished with green onions.