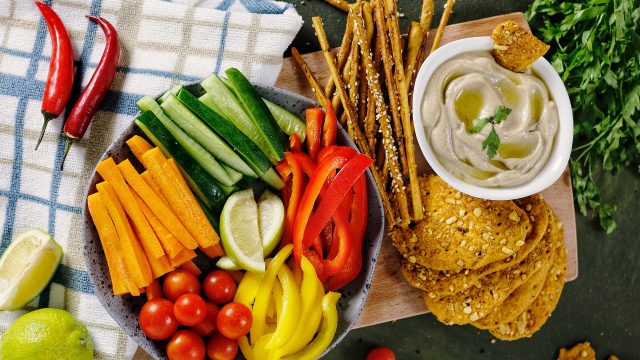 This rich and creamy dressing is easy to make and is delicious drizzled over salad greens, steamed veggies, stir fries, noodles, or rice. It makes a great sandwich spread or a tangy, tasty dip for veggies or crackers.Miso – This fermented soy bean paste has a sweet and salty flavour and can be found in ranges of colour with the darker colours representing longer fermentation and having a stronger flavour. Miso provides beneficial bacteria that can act as a probiotic source.  Tahini – Tahini is a paste of finely ground sesame seeds. They are a good source of iron and are also rich in calcium, magnesium, protein, fibre, other vitamins and minerals, and essential fatty acids. Lemon Juice – Lemons are a great source of vitamin C, and lemon juice can enhance the absorption of iron when added to iron-rich foods.
Ingredients
1/4

cup

tahini

1

tbsp

organic miso paste

1

tbsp

lemon juice

1

clove

garlic, minced

Ground pepper

(to taste)

1/4

cup

warm water

Optional: Grated ginger, minced herbs, freshly squeezed orange juice or lime juice
Instructions
In a jar or small bowl, mix the tahini, miso paste and lemon juice until it forms a smooth paste.

Gradually stir in the ¼ cup of warm water until you get the consistency you'd like. Add more water if you would like a thinner consistency. It will continue to thicken as it sits.

Stir in the garlic, pepper and any other optional ingredients.

Can be stored in the refrigerator for up to a week.