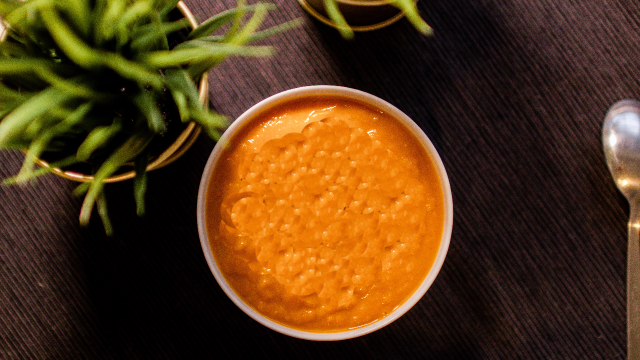 Ingredients
1

pound

carrots

3

tbsp

olive oil

2

tbsp

lemon juice

2

cloves

garlic

1

tsp

paprika

2

tsp

cumin seeds, ground

(if using whole cumin, lightly toast, then grind)

2

tsp

tahini
Instructions
Peel or scrub and steam carrots for 10-15 minutes, or until very soft. In a food processor, puree all ingredients together until smooth. Garnish with sesame seeds and freshly ground pepper. Serve at room temperature with veggie crudités, rye crisps, or rice crackers.
Notes
Nutritional Value of Select Ingredients
Carrots – Carrots are one of the best sources of beta carotene, which balances the immune system and reduces the risk of many cancers. They also guard against cardiovascular disease, reduce inflammation, slow the aging process, and are great for digestion disorders. Contain fibre, calcium, iron, and many other vitamins and minerals.
Olive Oil – Cold pressed extra virgin olive oil is an excellent source of monounsaturated fatty acids, making this oil quite stable for medium temperature cooking. It has a good variety of vitamins and minerals, and can help lower LDL cholesterol, control blood pressure, and aid in diabetes.
Lemon Juice – With its antibacterial properties and high levels of vitamin C, lemon juice is a great addition to any recipe. It is also great for balancing pH and detoxifying the body.
Garlic – Garlic is touted as a "cure-all" due to its many uses in medicine. It has a beneficial effect on heart disease, cancer, and infectious diseases. It decreases cholesterol levels, detoxifies the body, stimulates the immune system, and the list goes on and on. Eat garlic raw and regularly for maximum benefits.
Tahini – Tahini is a fine paste of ground sesame seeds. By weight, sesame seeds are higher than liver in iron. They are also high in calcium, magnesium, protein, fibre, other vitamins and minerals, and EFA's.
Recipe adapted from Carol Parks, The Vital You Ultimate Holistic Cookbook, by Jennifer Hough