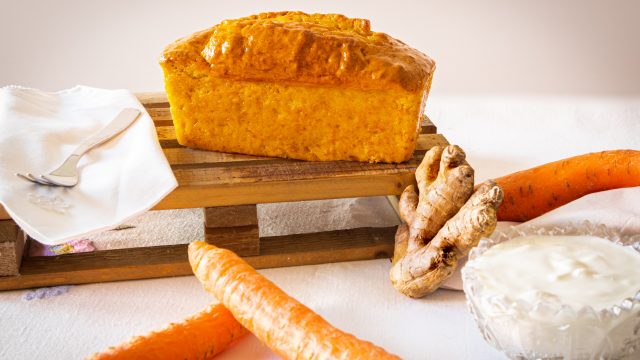 This moist, rich cake is made using whole grain flour, fruits and veggies, more "natural" sweeteners and healthy oils. Your kitchen will smell divine with the aroma of warming spices like cinnamon, nutmeg, ginger and cloves as this cake bakes.
Carrots – Carrots are one of the best sources of beta carotene, which balances the immune system and reduces the risk of many cancers. They also guard against cardiovascular disease, reduce inflammation, slow the aging process, and are great for digestion disorders. They also contain fiber, calcium, iron, and many other vitamins and minerals.
Cinnamon – This spice has antiseptic properties, is a digestive aid, has anticancer properties, and is beneficial for the heart, lungs, and kidneys. It also helps lower blood pressure and makes insulin more efficient thus controlling blood sugar spikes.
Walnuts – These nuts contain beneficial polyunsaturated fatty acids that are great for the brain and lowering cholesterol. They are also high in protein, fiber, minerals, and vitamins.
Pineapple – Pineapple is an excellent source of vitamin C and manganese. It is also rich in the enzyme bromelain, which aids in digestion, is an anti-inflammatory, and an anti-cancer agent. It can greatly reduce the swelling of carpal tunnel syndrome, arthritis, and gout.
Ingredients
Wet Ingredients
1/2

cup

apple sauce

1/2

cup

honey

1/3

cup

olive or coconut oil

2

eggs

(or 2 tbsp ground flax seeds soaked in 6 tbsp water)

1

cup

carrot, grated

1

cup

crushed pineapple, drained
Dry Ingredients
1

cup

whole grain spelt flour, rice flour, kamut flour or combination

1

tsp

baking powder

3/4

tsp

baking soda

1/4

cup

walnuts, chopped

1/4

tsp

salt

1

tsp

cinnamon

1/2

cup

unsweetened shredded coconut

optional: 1 tsp ground ginger, ¼ tsp ground nutmeg, ¼ tsp ground cloves
Instructions
In a bowl, mix together the wet ingredients.

In a separate bowl, mix together the dry ingredients.

Add the dry ingredients to the wet ingredients and mix together gently.

Pour into a greased 7×11 inch cake pan (or a muffin tin).

Bake at 350ºF until a toothpick comes out clean, approximately 40 minutes (20 minutes for cupcakes in a muffin tin). Cool and serve.